Businesses in the Blue Chip Supply Chain Should Prepare for Downstream Effects of More Interest Rate Hikes
As the Federal Reserve signals intent to raise interest rates at least one more this year after its most recent bump, the marketplace is set for a liquidity shift reminiscent of the early 1990s. The impact of further interest rate hikes on top-tier blue chip corporations is palpable; the downstream effects to other companies in the blue chip supply chain should start raising the alarms for the larger business community to get its fundamentals straight.
New York Federal Reserve President John Williams has said it's too early to determine if the U.S. central bank has concluded its cycle of raising interest rates, even as the Fed recently boosted its benchmark overnight rate to between 5.00% and 5.25%. Despite market speculation of potential rate cuts, Williams maintains that a restrictive stance is needed to reduce inflation from 4% to 2%.
Interest rates are now settling in at the highest they've been in nearly 15 years. But even with these uncertainties and more promised interest rate hikes, companies with strong fundamentals and robust balance sheets have a unique opportunity to gain market share and solidify their positions. Emmanuel Daniel, founder of The Asian Banker, analyzes the current signals from the Federal Reserve and gives strategies for how businesses should prepare
Emmanuel's Thoughts
"The Fed is determined to raise rates at least two more times this year, and that will suck the liquidity out of the marketplace and bring us back to a period that is more like the early 1990s, before Alan Greenspan inculcated the culture of loosening rates. And what that means is that it will have a fundamental impact on the economic landscape.
Venture capitalists will not be able to throw capital or spray capital across innovation in the way that they've been doing for the last 20 years. Corporations will not be able to raise capital on the back of a good story. So what Cathie Woods says in terms of, you know, some corporations which are technology leaders should be valued much higher than their ability to meet their commitments, that will be a thing of the past under the current regime. But the event that we're all looking forward to is the credit event. Very clearly, we are going to be seeing large corporations, blue chip corporations go down in the way that some of the sizable banks have gone down recently, because they're not able to meet their credit commitments, not just in the US, but around the world.
And what this means is that any business that is in the supply chain, whether upstream or downstream of these blue chip corporations, will need to look out that they are not affected along the way. Now, while this will create a consolidation in the marketplace, in the economic landscape, this is also a time for businesses that have got strong fundamentals, a very strong balance sheet, to gain a market share, to become stronger in a marketplace that is less distracted than it was during a period when rates were much looser."
Article written by Daniel Litwin.
Latest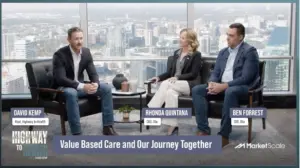 December 7, 2023
As of recent times, the healthcare industry has been progressively shifting towards value-based care, a model that emphasizes patient outcomes over the quantity of services delivered. This transition represents a significant shift that promises to enhance patient experiences and outcomes while controlling healthcare costs. With a growing emphasis on this approach, especially over the […]
Read More