Career Lessons Learned by an Analog Guy in a Digital World
No company is perfect, and whether you work at a start-up or large corporation, there will inevitably be days where you wish you worked on the other side.
Tim Garbutt, the Director of Corporate Marketing and Communications at Flintco LLC, has been on both sides and knows how the other half works.
On this episode of Knowledge is Power, he shares with host Brandon Pfluger his experiences on both sides of the professional world and a few things he's learned along the way.
"My dad was a small business owner, so that's what I grew up around," Garbutt said. With smaller, privately held companies, "the owner was always in the room, so to speak. You could walk down the hall and talk to the guy who was leading the charge."
However, after a large, publicly held corporation acquired the smaller construction company he was working at, Garbutt suddenly found himself thrust into the corporate world.
"When the acquisition happened, and I saw the layers of bureaucracy of a publicly-owned company – the careful nature of everything that's done and how everything is vetted and scrutinized and there's a structured approach to everything, it became apparent to me how real that is," he said.
Another career move led him to Flintco and back to the freedom of a privately held company, "and I realized at that moment where I really fit," he revealed. "My experience has always been that you got to do a lot more interesting stuff in the privately-held company, where decisions are made a lot faster and it's just more energizing to be a part of that."
Subscribe to MarketScale Radio on Apple Podcasts and Spotify for the latest insights and learning moments from industry experts in a variety of B2B fields.
Follow us on social media for the latest updates in B2B!
Twitter – @MarketScale
Facebook – facebook.com/marketscale
LinkedIn – linkedin.com/company/marketscale
Latest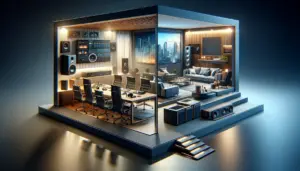 November 27, 2023
In this episode of "Pro AV Today," host Ben Thomas sits down with Audra Kinsley of Sonos Professional to unpack a topic that's causing (sound) waves in the audio industry: the fusion of commercial and residential audio systems. As we navigate through a landscape where consumer and professional audio worlds are increasingly intersecting, Sonos steps […]
Read More