Exploring the American Workforce's Post Pandemic Childcare Challenges
Childcare in the U.S. has long been a challenge for parents, children, and workers, a situation that's become even more dysfunctional in the era of Covid-19.
According to data from the Center for American Progress, nearly 50% of Americans live in a "childcare desert," with no licensed childcare providers, or demand that's three times higher than the care available. And the National Institute of Child Health and Human Development deems just 10% of existing facilities as high-quality.
What's at stake? The educational future of our country's children and equitable pay for childcare workers, currently paid low wages comparable to a fast-food worker's salary.
Host Daniel Litwin, the voice of B2B at MarketScale, was joined by Tom Callahan, Founder of Child Care Seer, to talk about the insufficiencies in U.S. childcare and how "The Child Care for Working Families Act," which President Biden's administration recently introduced to the Senate, is striving to upend the status quo.
"Childcare has a huge impact on how we prepare young minds for their future career and participation in our country,"
In addition to founding Child Care Seer, a childcare operations and administrative platform offering powerful scheduling and cost management tools and analytics, Callahan is also the owner of Callahan Learning Center, a Virginia-based childcare management company with two centers in the state. "A key part of our business is focusing on education and growing children, not just watching children," he said. And there are plenty of reasons why.
Callahan explained that high-quality childcare not only nurtures young minds; it can have far-reaching effects that impact our society. "When a child goes to kindergarten and feels smart and fully prepared, they're treated a certain way, and they sort of rise to that expectation," he said. "Sadly, I think the opposite is also true. If they don't sit still and haven't been taught the fundamentals things from a good preschool teacher, they struggle that first year. They feel inadequate and feel lesser."
Though some children excel despite their poor educational start, they're the exception to the rule, he explained. "Childcare has a huge impact on how we prepare young minds for their future career and participation in our country," he said.
Follow us on social media for the latest updates in B2B!
Twitter – @MarketScale
Facebook – facebook.com/marketscale
LinkedIn – linkedin.com/company/marketscale
Latest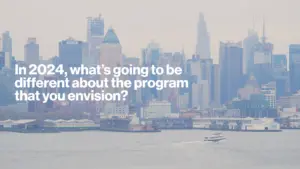 December 1, 2023
In the dynamic telecommunications landscape, Verizon's Partner Network continues to evolve, adapting to new trends and opportunities. For another segment featuring Mark Tina, VP of Indirect Channel Distribution and Channel Chief at Verizon Business Group, he explores exactly what types of significant changes and advancements the Verizon Partner Network will see in 2024. In this […]
Read More