Fixed Wireless Access
Fixed Wireless Access (FWA (Fixed Wireless Access) summit on December 6, 2022, looked at the state of the market, use cases, and outlook for FWA deployments. The increase in 5G adoption, greater spectrum availability, and technical development of FWA architecture create the perfect scenario for FWA scalability.
So, what are wireless communications companies saying about FWA? At the summit, Verizon's SVP of Technology, Strategy, and Planning, Adam Koeppe, said Verizon already factors fixed wireless onto their network. "We absolutely ensure that the network capacity is there to meet the demand of customers, and that is what we do on a daily basis. That's how we engineer and run the network. And that's really not that much different from what we've done for the last 20 years of wireless.
Chad Foos, Director of Enterprise Solutions at SOVA, added additional context to the importance of fixed wireless access capacity.
Chad's Thoughts
"And thinking about it, out of all the technologies that s SOVA helps their customers support and deploy, the internet's gotta be one of the most important, right? It's a big deal when the internet goes down. And it's a big deal when I'm not able to open an office for a customer cause it's taking too long to get a circuit there.
Or maybe there are too many internet service provider options or a lack of internet service providers. So fixed wireless access has been a game changer for us because we're able to deploy much faster to our customers just due to the availability of the Verizon Wireless network. It allows us to standardize our recommendations to customers.
So when we are recommending technologies to customers. At SOVA we wanna make sure that technology is gonna meet their needs and their needs seem to be around availability and robustness. And, fixed wireless access luckily seems to, hit both those points and availability. If you really peel it back a little bit, what customers are doing today is they're having to juggle between lots of internet service provider options. So if they have work-from-home employees or if they have offices that are in different states, businesses are often juggling thousands of internet service provider options, which is a little bit of a nightmare when it comes to support.
Accounting, turn-up, disconnections. All of that is harder when you have more than one option. So the availability of the Verizon network allows us to deploy a standardized solution when customers come to us and are looking for connectivity. And then the reliability. And this is a funny question because if I were to think about my internet connections over the last 10 years, particularly my broadband connections, I can think of many examples of when that broadband connection went down. I can think of many examples when offices had to choose maybe a different provider than, the standard one. But I cannot think of a time where my cell phone was working and then just all of a sudden, it stopped in the same spot that I was standing in. So the reliability of the wireless network in my opinion and my experience is much more robust than some of the other internet service provider options that I've used in the past.
Now, I will say I've gone in areas where the cell network wasn't so good and that's where I would if I were to deploy in that area I would use myself, I would use a company like SOVA to prep that area first prior to deploying fixed wireless access in that area. But generally speaking, if I'm in a good cell area or it's been prepped to receive good cellular network that connection is more reliable than any of the other internet connection options that I have today. So from an availability and reliability standpoint, wireless fixed wireless access definitely hits the marks and, what it's allowing SOVA to do today is, meet the requirements of our customers.
Customers are asking us to deploy circuits and internet connectivity at a faster pace than we've seen."
Latest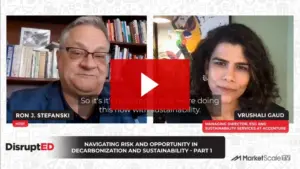 September 26, 2023
The global conversation has shifted dramatically towards decarbonization and sustainability in recent years. With the world experiencing unprecedented levels of disruption, from 5G technology to the challenges of a pandemic, the urgency to address climate change and its implications has never been more palpable. Although most business leaders see the vision of Sustainable Development […]
Read More