Good Boss, Bad Boss: How Workplace Management Can See Improvement
Management is the cornerstone of many businesses. Without it there is no structure in any workplace, which is why good management is such a central role to a successful business and workplace. In contrast, bad management and bosses can be detrimental to the environment of any workplace. This topic was covered in the book, "Radical Candor: Be a Kick-Ass Boss Without Losing Your Humanity," and its author elaborated further on how management can be improved with several key steps.
What are the ways workplace management can see some improvement?
To talk about this on a new episode of "Tuesdays with Morrisey," host Adam Morrisey interviewed author and CEO of Candor, Kim Scott, about her book, her experiences in upper management, and valuable advice she's learned about becoming a better boss.
Scott explained that cultivating a good culture around management requires a level of effort that seems to be missing in a lot of workplaces. Although there's acknowledgement of it, she cites fear as the culprit slowing down progress.
"I think in terms of culture I think there's an increased awareness of how important culture is because right now we're at an all-time low culturally. I think that things are so polarized and divided and everybody's afraid to talk to everybody else and we got to fix that," said Scott.
Morrisey and Scott also talked about…
Scott's books and the concept of radical candor
How stereotypes and subconscious prejudices alter the workplace and how it shaped Scott's own views
Reasons why good workplace management can't always be taught and is as much a hands-on experience
"Understand that people join companies and leave bad managers. It's really interesting, you know, you spend years becoming a lawyer, or learning how to be an engineer, learning how to be a salesperson, but you rarely get real dedicated instruction and what it means to be a manager and how to do it well … I went to business school and how many classes did I take about managing people? Zero. I learned exactly nothing and I'm not knocking business school — it's great to go to business school, but I think we need to get much better at both teaching and valuing management," said Scott.
Kim Scott is a former Silicon Valley executive and author. She is also the CEO and co–founder of Radical Candor. In the past Scott worked for a host of popular tech companies, such as Dropbox, Twitter, Apple, and Google. She's written over a half dozen books, most notably, "Just Work: How to Root Out Bias," "Prejudice, and Bullying to Build a Kick-ass Culture of Inclusivity," and "Radical Candor: Be a Kick-Ass Boss Without Losing Your Humanity."
Latest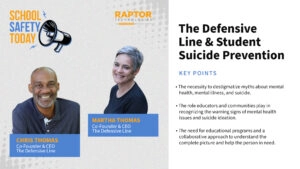 September 22, 2023
Student suicide prevention is a paramount concern among mental health providers. For one organization, student suicide prevention is more than a concern: it's their mission. The alarming rise in mental health crises among youth has become a pressing concern in recent times. With the complexities of modern life and the challenges of the digital […]
Read More