How To Include Tokens On Your Capital Stack: Like It's Your Job
On this episode of Like It's Your Job, hosts David Shields, Principal at Shields Legal Group, and Matt Shields, CIO at Shields Capital Group, talked with Rayne Steinberg, CEO at Arca, an institutional-grade financial services firm that builds products utilizing and investing in digital assets. They dug into Steinberg's career and business at Arca. They also discuss digital assets investing and innovation, as well as including tokens on your capital stack
Arca focuses on pensions, endowments, and high net worth individuals. Their thesis was that channel, and institutional allocators were underserved when it came to digital assets, according to Steinberg, who leads the company's overall direction and is responsible for securities structuring and risk management.
"They have higher risk thresholds, fiduciary duty, they're used to dealing with established brands, there's tremendous employment risk and reputation risk for them to allocate in this space," explained Steinberg in regards to Arca's thesis. Steinberg co-founded the asset management company, WisdomTree before joining Arca.
He elaborated that this is amplified with digital assets, so this was an underserved area, and Arca was going to create a "top-notch" firm in order to address this gap. They have two sides of the business, active management practice and Arca labs, "which is our innovation arm creating better asset management products that are energized by blockchain." This leads to more liquidity and transferability with all the promises of blockchain but applied to asset management.
Listen to hear more about Steinberg's insights on including tokens on your capital stack.
Latest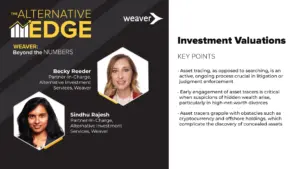 December 4, 2023
In this episode of The Alternative Edge, a Weaver: Beyond the Numbers Podcast, host Becky Reeder, an audit partner and co-leader of the alternative investments practice at Weaver, engages with Sindhu Rajesh, an Alternative Investment Services Partner with Weaver. They unpack the complexities of venture fund valuations, offering critical insights into industry dynamics and best […]
Read More