Intuit Corners the Personal Finance Market: Business Casual
Set to close in the second half of 2020—if it clears the regulatory process—Intuit's acquisition of Credit Karma for $7.1 billion in cash and stock will basically limit taxpayers to essentially one key player in the tax filing space. As the parent company of TurboTax, Intuit's purchase will corner the market to some degree, deepening its push into consumer finance further while making its product suite even more robust, as it's gaining access to free credit scoring services.
"One of the converse things to look at is that I think is actually maybe a pro out of this is the fact that by consolidating financial information—by consolidating financial services—we garner a breadth of security that kind of comes with localizing into a central place where now we don't have half of our credit information in one area and half of our personal finances here in another area, and then trying to figure out how to merge those two together," remarked Bagley.
While Credit Karma will reportedly continue to operate as a standalone entity, with both companies able to leverage data from one another, unethical accusations leveraged against TurboTax in the past may bring unease to some of the 90 million Credit Karma users who are now under the Intuit umbrella.
"You often see with mergers or with companies kind of eating each other up, that there is no guarantee that the consumer is going to trust the new brand—the new consolidated brand," said Litwin. "You gotta keep the consumer in mind because people can be kind of fickle, and just because you say things are going to be the same, they may not perceive it that way."
For more Business Casual, listen live on MarketScale Radio on Wednesdays and Fridays at 9 AM CT, and follow us on Twitter at @BizCasualRadio.
Latest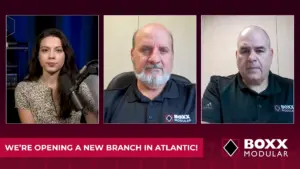 December 4, 2023
In an era where construction innovation is reshaping the industry, modular construction's growth continues to rise. In this episode of Built Modular, Boxx Modular's strategic expansion into Moncton, Atlantic Canada takes center stage. Host Gabrielle Bejarano welcomes Charles Landry and Ray Girouard to explore the implications of this venture. Bejarano, Landry, and Girouard discuss […]
Read More