Key Indicators Show That Price Increases Have Slowed Since October
Some top inflation indicators have shown that price increases have slowed since the month of October. While that sounds great on paper, experts are hesitant to call this a win.
Joshua Wilson, Adjunct Professor at Baylor School of Business, says that he remains unimpressed as these reports come out. He mentions that we'll need to continue to see some real change before consumers feel any significant relief.
Joshua's Thoughts: 
"Are we finally moving into deflation? New data from the PCE index has many people asking that question. The data showed that compared to the prior two months in which the index rose 0.5%, the index only rose 0.2% this past month. Sorry, but I remain unimpressed. If we zoom out, we see this month-over-month increase has been zigzagging up and down between being up 0.1% and up 0.6% for every month in the past few years.
In other words, it's moving sideways. Some months it's simply up less than in other months. That's basically like saying some months aren't punching consumers quite as hard, but every month is still throwing a punch. In summary, optimistically, I hope this is evidence that inflation is slowing, but slowing is not the same as declining.
I'm going to need more evidence to convince me that inflation is really declining."
Latest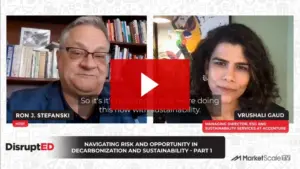 September 26, 2023
The global conversation has shifted dramatically towards decarbonization and sustainability in recent years. With the world experiencing unprecedented levels of disruption, from 5G technology to the challenges of a pandemic, the urgency to address climate change and its implications has never been more palpable. Although most business leaders see the vision of Sustainable Development […]
Read More