Learning that Lasts with Janell Blunt, PhD
With the ever-increasing pressure to perform on standardized tests, many educators are looking for ways to help their students learn more effectively. Dr. Janell Blunt, an associate professor of psychology and learning at a Midwestern university, is on a mission to do just that. In this episode, Dr. Blunt discusses her research on the science of learning and memory and shares strategies for improving student performance.
What is retrieval practice and why is it so effective? How can educators shift their approach from focusing solely on getting information into students' heads to helping them retrieve that information when they need it? And how can low-stakes practice help students learn and grow without the fear of failure? Dr. Blunt offers practical tips and insights for educators at all levels.
Retrieval practice is a powerful learning strategy that is often overlooked in traditional classroom settings.
Encouraging students to actively engage in retrieving information through low-stakes practice can lead to better long-term learning outcomes.
"Don't just stop at encoding. Yes, read the text, but now let's do something with it. Actually practice recalling it," says Dr. Blunt.
"As an educator, I believe in paying attention to what works, not just what we think works," says Dr. Blunt. With her focus on the science of learning and memory, she offers valuable insights for educators who want to help their students succeed.
Latest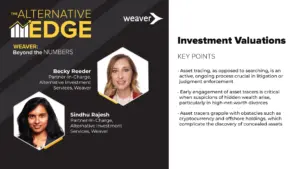 December 4, 2023
In this episode of The Alternative Edge, a Weaver: Beyond the Numbers Podcast, host Becky Reeder, an audit partner and co-leader of the alternative investments practice at Weaver, engages with Sindhu Rajesh, an Alternative Investment Services Partner with Weaver. They unpack the complexities of venture fund valuations, offering critical insights into industry dynamics and best […]
Read More