10 Ways to Lessen the Impact of COVID-19 on Your B2B Business
With COVID-19 restricting travel, sales and marketing teams have more challenges than ever before in maintaining their sales pipelines and continuing to conduct business development, communications and operations.
We came together to create a list of 10 best practices marketers should implement to mitigate business impact, and continue sales and marketing growth during this health and logistical crisis.
1. Don't panic.
Start with LinkedIn: 95% of B2B marketers are already using LinkedIn to grow their businesses. You are in that 95%. Trade show or meeting cancelled? Find your dream clients and connect with them on LinkedIn. So what do you share?
2. Convert your existing sales communications into video NOW.
B2B sales and marketing teams are built on old PowerPoints. Video will drive engagement on social media while also offering your sales team an important supplement and alternative to in-person communications.
3. Virtual events and live broadcast are now possible and affordable.
You've watched those Apple keynote presentations for years. Why is your company not doing those yet? You don't need a trade show to speak or deliver an educational session. Implement a solution like Brandlive and invite your prospects. If your sales team can't travel to present, this is even better.
4. Move from classroom training to Online Learning.
More than 130 colleges (and counting) have moved classroom instruction to online learning due to COVID-19. You can do the same. From employee onboarding to channel partner training, you can deploy an Online Learning Solution in a matter of days that keeps your momentum and builds a library of content for years to come.
5. Start a podcast for your sales team.
Podcasts are the fastest growing content format in B2B. Leverage a premium podcast player like Backtracks to host the content and measure the results. 74% of people say they listen to podcasts to learn new things. Create podcasts to teach your prospects and customers more about your products and services while connecting with your guests remotely.
6. Bring back the Webinar.
You tried a webinar a few years ago and nobody showed up, right? Well, 73% of B2B marketers now say webinars are the best way to generate high-quality leads. Is the webinar better than the trade show to begin with? Probably not. But get that PowerPoint fixed up, create an email and host a webinar on a platform like Zoom. Not only will you broadcast your message to your audience, but you'll capture valuable leads data for further communication.
7. Videoconferencing for sales.
Speaking of Zoom, the videoconferencing platform, did you know that its valuation has doubled over the past three months? Find another stock that has done that. Why the demand? Remote work. The CDC is advising Americans to consider remote work and work-from-home options. Is your sales team fully ready to present through videoconferencing?
8. Turn everyday interactions into opportunities for video.
Sometimes, the best sales and marketing opportunities come from interactions with existing clients or helping prospects solve complex challenges. Ask and answer questions using VideoAsk, a video survey tool by TypeForm. Share deliverables with clients and answer questions using SoapBox by Wistia. Adding more personality and video collaboration at a time when in-person interactions are scarce is a powerful opportunity to improve relationships and drive results.
9. Add an intelligent ChatBot to your Website.
What if you see an increase in sick days and find your team understaffed? According to industry leader Drift, 75% of chat respondents expect an instant response, and we're moving toward a marketplace where 85% of customer interactions take place without a human conversation, anyway. Chatbots can't get coronavirus, they utilize artificial intelligence and they will make sure your sales and marketing operation is staffed 24/7.
10. Embrace Augmented Reality (AR) Technology.
Doesn't sound like an emergency marketing measure, right? Imagine giving your customers to ability to visualize your product or even your trade show display remotely using just their iPhone or iPad. Apple does a great job showing the power of AR. Check it out here. Now this is a way to increase sales demonstrations without a single in-person meeting.
In addition to protecting your sales and marketing pipeline and growing your business, best practices like these also slow the spread of COVID-19 as you continue to collaborate digitally without travel.
Implement these best practices now and mitigate business and health risk while deploying essential technologies that will continue to provide value and efficiency long after COVID-19 is gone.
Need help implementing any of these items now? We can help.
—
Follow us on social media for the latest updates in B2B!
Twitter – @MarketScale
Facebook – facebook.com/marketscale
LinkedIn – linkedin.com/company/marketscale
Latest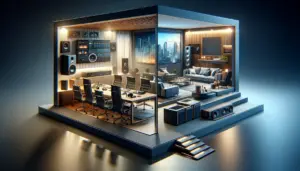 November 27, 2023
In this episode of "Pro AV Today," host Ben Thomas sits down with Audra Kinsley of Sonos Professional to unpack a topic that's causing (sound) waves in the audio industry: the fusion of commercial and residential audio systems. As we navigate through a landscape where consumer and professional audio worlds are increasingly intersecting, Sonos steps […]
Read More