Navigating 1099 Work & Gig Economy in a COVID-19 World
The world of freelancing has seen quite a few shakeups in recent years, with California's Proposition 22, a response to the AB 5 labor reclassification, effectively creating a third category of worker in the gig economy when it comes to rideshare and food delivery drivers, and the pandemic making navigating the 1099-powered world of independent work even more difficult.
To explore these shifts and how the workers impacted by them are working to adapt, host Daniel Litwin invited Founder & CEO of Gig Wage Craig J. Lewis to share his insight.
Gig Wage is a fintech payroll program for the gig economy, working to provide financial support for 1099 workers through access to banking-as-a-service platforms and easier ways to manage cash.
"Our overall goal is to help every company in the world pay every contractor in the world, but our focus, currently, is really about large marketplaces," Lewis said. "If somebody can push a button and get work from that button being pushed, we want to help pay, manage and support those types of workers."
Lewis and Litwin dove into the company's recent influx of cash from Green Dot, the implications of that growth in advancing the organization's mission, the challenges that 1099 workers are dealing with in the current climate, and more.
Follow us on social media for the latest updates in B2B!
Twitter – @MarketScale
Facebook – facebook.com/marketscale
LinkedIn – linkedin.com/company/marketscale
Latest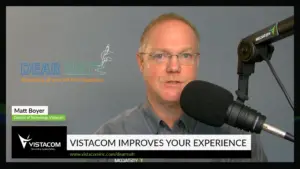 December 11, 2023
In a time when the AV industry supply chain faces unprecedented challenges, understanding its current status and future trajectory is crucial. In this week's segment of "Dear Matt," presented by Vistacom, host Matt Boyer, the Director of Technology at Vistacom, brings his over 30 years of experience in the audiovisual industry to the status […]
Read More