NFT Markets Stiffen The Competition For Legacy Auction Houses
When it comes to legacy auction houses, two dominate the market – Sotheby's and Christie's. But, as the NFT market starts challenging some of these traditional structures, it will be interesting to see how they compete. Two memorabilia companies, Funko and Topps, also just entered the NFT market.
Voice of B2B, Daniel Litwin, hosted Asher Rubinstein, Partner Gallet, Dreyer & Berkey LLP, whose primary practice is around asset protection, trusts & estates, as well as representing high net-worth individuals like art collectors, designers, wine importers & producers, and other professionals in wine & hospitality, on Marketscale TV to discuss the structure NFT market and how it compares to the traditional auctions that exist today.
"I think that both of them are realizing that competition is on the horizon," he said of Sotheby's and Christie's. Rubinstein noted the competition comes in the form of smaller, newer auction spaces that are dealing in the digital art spaces.
Wealthy buyers worldwide, such as Russia and the Persian Gulf, often bid on prestigious art. A lot of those bids come in anonymously. The newer auction and NFT spaces allow anonymous bids from wealthy and non-wealthy buyers. If the collectors don't want to be known publicly, the larger auction houses will also accommodate.
Profitability is difficult in this world. Deals are often made by prominent dealers, even if that means missing out on their cut. NFTs are unlikely to change this, as they will also have to incentivize these deals.
NFTs are going to challenge the traditional auction houses. One of the main ways they will do this is to allow buyers that aren't millionaires to make bids on priceless art.
"I think what we're seeing here is the democratization of the art world," Rubinstein said.
Follow us on social media for the latest updates in B2B!
Twitter – @MarketScale
Facebook – facebook.com/marketscale
LinkedIn – linkedin.com/company/marketscale
Latest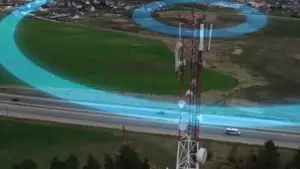 December 1, 2023
Improved usable range extends communication across various industries. Icom's latest video highlights a significant advancement in radio technology that improves usable range, offered through NXDN™ 6.25 kHz radios compared to traditional 12.5 kHz models. The video explains how NXDN radios, operating at 6.25 kHz, provide a more usable signal over the same distance as […]
Read More