Now Hiring: Introducing The Essential Podcast for Hiring in B2B
Now Hiring is a show that will highlight open positions in B2B companies all over the world as well as cover hiring news and updates to help guide both industry recruiters and candidates.
This week we covered a few jobs in the Architecture and Design industry from Caesarstone and Clarus.
Caesarstone has been around since 1987 and was the pioneer of the natural quartz surfaces market. They have also been publicly-traded on NASDAQ since 2012.
Caesarstone has its head office in Sdot Yam, Israel and now manufactures quartz surfaces at three facilities in two continents.
Whether it's developing new technologies and production processes or working with the world's leading designers to generate new concepts, Caesarstone has a passion for innovation that is unmatched in their field.
Our next featured company, Clarus Glassboards, is based right up the road from the MarketScale studios in Ft. Worth, TX.
Clarus has numerous positions available in areas ranging from Ft. Worth, to Chicago, and regional positions on the East Coast.
Here is a portion of the job description for their Inventory Lead role:
"The inventory lead is responsible for properly processing all hardware sales order accurately and in a timely manner as well as notifying the team of any inventory discrepancies."
—
For the latest thought leadership, careers, news, and event coverage across B2B, be sure to check out our industry pages.
Latest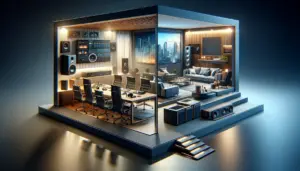 November 27, 2023
In this episode of "Pro AV Today," host Ben Thomas sits down with Audra Kinsley of Sonos Professional to unpack a topic that's causing (sound) waves in the audio industry: the fusion of commercial and residential audio systems. As we navigate through a landscape where consumer and professional audio worlds are increasingly intersecting, Sonos steps […]
Read More