The Push for Peer Regulation Post-FTX Crash
The collapse of crypto exchange FTX has unleashed a new wave of speculation in the digital market, as the fortune of FTX founder Sam Bankman-Fried went from nearly 16 billion dollars to zero in days. Raising serious questions about the structure of the crypto business model and also regulations what should investors make of the recent events and should the crypto community push for peer regulation? CEO of INOV8 NEXT and MDDAO, OG Arabian Prince gives his thoughts on the recent news and ways for the crypto community to bounce back.
OG Arabian Prince's Thoughts:
"I think the major flaws in crypto regulation after the FTX crash is that it exposes a lot of things that we've been talking about for years. You know, there needs to be, and I'm not sure if it has to be government regulation, but it should be peer regulation. We in the crypto community really, really need to police ourselves and each other.
And there should be a board of regulators that, you know, we all appoint that really, really keep an eye on, um, companies and individuals that handle people's money. You know, we all invest, we all love returns on our investment, but at the same. Do you trust who you're giving your money to? And is there a mechanism that protects you if something goes wrong with those investments in the crypto community?
And as of today, there is none. You know, you're just kind of going, I hope everything is cool. I hope I'm going to make a return. But It's a gamble so you know, I think that's what needs addressing and I think because of it hopefully we as a community in the crypto space can really get together and make sure that this doesn't happen again.
Like I said, I'm not sure if it's government intervention because we're trying to stay decentralized. But it's more policing ourselves and getting a handle of what this market could be, what the crypto space could be in the future, and how to protect it. We have got to protect it and not let this happen again.
And for those people out there who are skeptical, there are a whole lot of reputable companies that are in the space that are doing amazing jobs. Yes, there's going to be ups and downs, you know, right now, but I think in the long run this is going to be something that's going to be looked at as a boom. Okay, this was something that we had to fix and it's going to be for the better."
Latest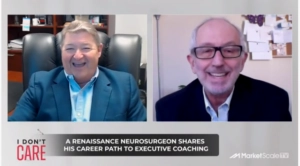 September 22, 2023
The healthcare industry grapples with an overload of information, patient safety concerns, and an increasingly digital landscape. This fact makes professionals who can bridge the gaps between various healthcare disciplines a precious commodity. In fact, according to the Healthcare Information and Management Systems Society (HIMSS), a lot of healthcare organizations and workers believe that […]
Read More