Which Industries Saw the Most Help from PPP Loans?
The federal government stepped in in the wake of the COVID-19 pandemic and its impact of American businesses, offering Paycheck Protection Program (PPP) loans designed to help businesses keep their teams employed in the face of an unprecedented challenge.
However, not all aid was created equal.
On this episode of MarketScaleTV, Voice of B2B Daniel Litwin was joined by Chris Tepedino, feature writer with Loans.org, and Douglas Dedrick, founder of Healing Law and This American Lawn, to examine Tepedino's long-form article on PPP payouts per industry, as well as Dedrick's experiences with loans for the landscaping industry during COVID.
In the case of PPP loans, some industries received more help than others – healthcare, social assistance, construction, manufacturing, and professional, scientific and technical services, to be specific. But did that allocation match the range of industries hit hardest by the pandemic?
Dedrick and Tepedino explore how federal dollars will help organizations in those industries bounce back, which others may need additional help to get back on their feet as the world reopens, what these loan programs revealed about the federal government's attitude toward different sectors of the economy, and more.
Latest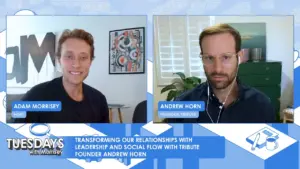 November 28, 2023
Can relationships be transformed through leadership and social flow? Navigating the intricate web of digital relationships can be a tricky proposition. Tuesdays with Morrisey's Adam Morrisey uncovers the transformative impact of emotional recognition in the workplace with Andrew Horn, the mastermind behind Tribute. This podcast edition unravels the story of a platform redefining how […]
Read More