Stop Digging for Data: Uncover Productivity Issues and Opportunities in Minutes
Sterile Processing Departments (SPDs), as with all other industries in healthcare, are struggling with supply chain concerns, a lack of steady commitment from staff, and a workforce shortage. Additionally, SPDs have long dealt with issues in staffing shortages, which even extends to how facilities maximize their spaces. Seamus Johnson, Senior Director of Application Development at Censis Technologies, and Barry Phetteplace, Chief Technology Officer at Censis Technologies, spoke with Tyler Kern about these issues and how powerful data analytics tools like CensisAI2 Productivity can help combat these challenges. 
Understanding resource utilization and where the gaps lie is fundamental to creating the efficiencies required to get the job done when workers are in short supply. 
"Until you've delved into that data and really understand, a lot of times it's guesswork," Phetteplace said. "If you're a small SPD where you only have a few techs, maybe it's a little easier, but if you're a large facility or a large IDN with multiple facilities, it becomes that much more difficult." 
Johnson said there are several levels of data that perioperative and sterile processing leaders want, and need visibility over their operative needs. "At the high level, what's important is being able to see everything your department's doing, seeing what your throughput is in terms of how many trays you're able to process for the OR. That's your capacity to support the cases and patients." 
Having data is one thing; accessing it and making sense of it is another. Creating cumbersome pivot tables can take hours to get the data into usable shape. It isn't typically something a person running a sterile processing department wants to spend their valuable time doing. Phetteplace said Censis understands these challenges. Censis designed CensisAI2 Productivity to provide a faster way to analyze data. "We want to understand if we're winning or losing. That was the mantra we had going into this, understanding the concept of productivity. It shouldn't take me fifteen minutes to dig through tab after tab and look at complicated charts and graphs to understand if I'm winning or losing." 
Interested in learning more about Censis Technologies' surgical asset management platform? Visit Censis.com.
Latest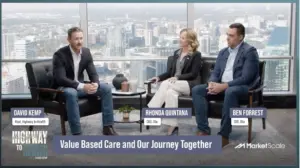 December 7, 2023
As of recent times, the healthcare industry has been progressively shifting towards value-based care, a model that emphasizes patient outcomes over the quantity of services delivered. This transition represents a significant shift that promises to enhance patient experiences and outcomes while controlling healthcare costs. With a growing emphasis on this approach, especially over the […]
Read More