10 New EdTech Tools to Power Teaching and Learning
Instead of the usual hustle and bustle through bright and crowded exhibit hall aisles, trade shows kept exhibitors and attendees at home this year and took a virtual approach to showcasing new edtech tools and trends.
During FETC and TCEA in late January and early February, virtual attendees attended presentations and engaging keynotes–and also had the chance to explore the online exhibit hall full of new edtech tools, products, and solutions to help educators as COVID learning approaches its one-year mark.
Whether students are virtual, hybrid, or back to some semblance of normal in their physical classrooms, here are a few edtech tools that might help their learning experience:

BenQ, provider of visual display and collaboration solutions, demonstrated its future-ready solutions that enable brighter futures at the virtual TCEA 2021. BenQ showcased the new budget-friendly, feature-packed, and proven-secure InstaShow WDC20E wireless presentation system specifically designed for classrooms as well as the world's healthiest, cloud-based RP02 Series interactive flat panel and the zero-maintenance LU/LH Series BlueCore laser classroom projectors.
Curriculum Associates highlighted new updates to i-Ready, which is used by more than 8 million students nationwide. In the last year alone, the company has made more than 100 new enhancements to the online program–including adding more than 170 new reading and math lessons and 160-plus lessons in Spanish. The product also added key features to support educators working through the pandemic: a prerequisite mathematics report for Grades 1–8, reading resources for Grades 3–8 to help teachers scaffold student comprehension, an Online Educator Learning platform, and tools for at-home assessment–all to provide deeper insights for teachers and offer guidance and tools to support learning, whether it takes place at home, at school, or both.
Epson announced its PowerLite L-Series, a new line of eight powerful compact laser projectors that deliver exceptional, crisp images for the classroom. The PowerLite L520W, L520U, L530U, L630U, L730U, L735U, L630SU, and L635SU pair Epson's cutting-edge 3LCD technology with installation-friendly features and intuitive software. They offer up to 7,000 lumens of equal color and white brightness for powerful performance, flexible placement and exceptional image quality in schools. The projectors deliver images up to 500 inches with 16:10 or ultra-wide 16:6 displays for optimal visibility in hybrid education settings. Epson also announced an expanded 5-year limited warranty for its projectors through its Brighter Futures® program, adding to the list of special discounts and benefits it offers to help reduce the overall cost of ownership for Epson's education customers.
At TCEA, Follett had a virtual booth, lead a panel discussion, and sponsored a key session for K-12 librarians. Britten Follett, who leads Follett's PreK-12 division (Follett School Solutions), moderated a panel discussion titled, "Navigating the Challenges of a Pandemic — A District-Wide Approach." The discussion focused on the key partnerships district leaders have forged during COVID-19; the challenges the pandemic posed and how they navigated them; and a glimpse into what educators can anticipate for the 2021-22 school year. At its virtual booth, Follett provided demonstrations of its array of solutions for school districts, including Destiny Resource Manager, Aspen SIS, Follett Book eFairs, MyDestiny, and Destiny Discover.
Gale, a Cengage company, is helping educators enhance skills for virtual lesson planning and online teaching. The company has launched Gale In Context: For Educators' new Learning Center, an on-demand professional learning hub for finding, organizing and learning how to teach – virtually or in-person – using the content created within For Educators. Now teachers can take control of their own professional learning and find support as they work to use For Educators to drive student learning outcomes.
Impero Software highlighted its new cloud-based suite of software, which combines classroom management and student safety tools to support hybrid learning. The suite includes Impero class:room for classroom management and Impero well:being, which allows school staff to monitor students' online activity and flags potential concerning behavior. Impero also discussed its recent acquisition of international software solutions provider Netop and its new partnership with managed solutions provider Lockstep Technology Group. The Netop acquisition will help Impero expand its global education and corporate product offerings. Its partnership with Lockstep will expand Impero's footprint in the southeastern United States and will help Lockstep provide student safety solutions to schools.
With Insights in Microsoft Teams for Education, educators are supported with meaningful, reliable data to make informed decisions regarding their learning communities and can help meet students' emotional, social, and academic needs. Real-time analytics regarding participant progress and activity offer easily digestible visualizations, and put key metrics regarding participants' digital experience at the center of the narrative. With consistent and timely access to data, educators and school leaders can focus time and energy on taking action to improve the learning environment and to further drive student success. When educators know what is working, energy can be focused on igniting student innovation and excellence.
At FETC, Promethean announced a premium device and application management solution for the seamless management of virtually any device in a school's technology ecosystem. This new offering is the result of focused efforts between Promethean and Radix, a device management solution provider. This solution will directly reduce IT administrators' work time and introduce new opportunities for efficient centralized remote control of devices, including the Promethean ActivPanel Elements Series from a single web console. During TCEA, Promethean announced its ClassFlow platform had received iKeepSafe certification renewal. The certifications for FERPA, COPPA, and California (Student Privacy – CSPC) mean that ClassFlow has been assessed by iKeepSafe and meets iKeepSafe's rigorous standards. iKeepSafe assesses and certifies for compliance with U.S. federal and state privacy laws, helping to eliminate privacy concerns during remote, hybrid, or in-person teaching. Promethean's ClassFlow enhances remote learning as a cloud-based lesson delivery service with advanced collaboration tools for student engagement. ClassFlow keeps remote, hybrid, and in-person students interested in interactive lessons, activities, quizzes, and thousands of immersive resources, lessons, and activities from educators worldwide. It also helps teachers deliver dynamic lessons to students' devices and brings interactive classroom displays to life for effective hybrid learning. As ClassFlow is cloud-based, it can be accessed anytime and anywhere.
RoboKind, an education technology company that builds robotic technology and curriculum for students with Autism Spectrum Disorder (ASD), announced the release of robots4autism: Avatar, a remote learning software built specifically to help educators support students during remote and blended learning. Avatar is a version of RoboKind's social-emotional learning program, robots4autism, that was recently endorsed by the Council of Administrators of Special Education (CASE). Based on development theory and the principles of applied behavioral analysis (ABA), the program includes a modular, evidence-based curriculum, combining facially expressive avatar robots with social narratives, visual aids, video, and natural modeling to help students learn and, eventually, master basic social-emotional skills.
With students learning remotely and digital book usage skyrocketing, schools have invested in many new online platforms. This growing trend elevates the need to integrate those systems so educators can effectively manage their classroom and spend more time teaching. In 2020, teachers dramatically increased their usage of the Sora student reading app's integrations with their existing edtech systems. These integrations, made at the direction of school administrators, allow ebooks and audiobooks to flow in rhythm with how students and educators work, enabling teachers to assign titles, and simplifying how students find and borrow digital books. Sora was created by OverDrive Education, a digital reading platform for 44,000 schools worldwide.
Follow us on social media for the latest updates in B2B!
Twitter – @MarketScale
Facebook – facebook.com/marketscale
LinkedIn – linkedin.com/company/marketscale
Latest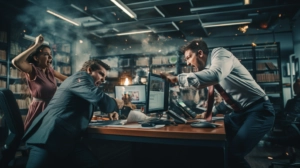 September 22, 2023
The kind of news that is delivered everyday serves as a grim reminder of the escalating violence across the U.S. Evidently, the need for proactive measures to ensure safety has never been more pressing. Such violence is not limited to any particular locale. It's actually permeating in so many different areas once considered […]
Read More