3 Crucial Educational Developments of 2020
As the pandemic continues to reshape education, new trends are emerging in the way we teach and learn. For the past five months, Remote Possibilities host Kevin Hogan has interviewed dozens of edtech executives on how their companies pivoted to respond to the crisis and attempted to find some silver linings from the cataclysm.
Three conversations stuck out. Din Heiman, SVP of Strategy at Renaissance Learning back in May predicted correctly the new roles of parents in the age of remote learning: "No matter what your specific offering is or who you sell to, start considering parents (a.k.a. #AccidentalHomeschoolers) as customers. Just because they aren't students doesn't mean you can treat them as teachers," says Din.  Carol Ribeiro, President & Chief Executive Officer (CEO) of VHS Learning, breaks down the vital distinctions between remote learning and true online learning. And  Robin Glenn, CEO and Founder of BASE Education, describes how social-emotional learning techniques are the most essential tools for educating during this crisis. Have a listen.
A Farewell to EdTech?
When Din Heiman, SVP of Strategy at Renaissance Learning, first posted his thoughts on the edtech industry's responsibility to respond to the current education crisis, he expected to spark a conversation. 20,000 LinkedIn views later, his provocative thoughts, plus the contributions from others, have created a blueprint for future remote learning success.
Marketscale contributor and Remote Possibilities podcast host Kevin Hogan discusses Heiman's extraordinary message with him and breaks down some of the specific suggestions he offers directly to edtech leaders. These include:
Survive
Parents aren't stakeholders.
You're in the equity business.
Why Social Emotional Learning Is Important Right Now
For Robin Glenn, CEO and Founder of BASE Education, 2020 is the year she has been training for her whole career. An accomplished therapist with over 18 years experience in working with at-risk teens, she finds her company in a position to help everyone—students, teachers, parents—with social emotional support in the course of learning. In this episode, Robin explores how SEL concepts can be applied in today's remote learning scenario.
How Online Learning Can Actually Work
What is the difference between remote learning and online learning? Carol Ribeiro, President & Chief Executive Officer (CEO) of VHS Learning, can tell you. She has over 20 years of experience in online education management and systems development. In this episode, Carol addresses the big picture issues schools need to contemplate during this mass disruption.
Prior to becoming President in 2015, Carol served as the Chief Operating Officer of VHS Learning and was responsible for overall management of operations, including school services, finance and accounting, technology services and support, and human resources. She has designed and delivered online courses and has been with VHS Learning since its inception. Prior to her work in online education, she managed systems development for UNUM. Carol holds a Bachelor of Science degree in Computer Information Systems from Bentley University and an MBA from Clark University. She is also a Fellow of the Life Management Institute (FLMI) and a licensed MA educator.


Latest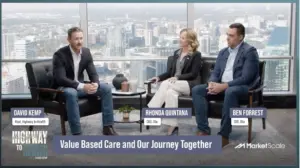 December 7, 2023
As of recent times, the healthcare industry has been progressively shifting towards value-based care, a model that emphasizes patient outcomes over the quantity of services delivered. This transition represents a significant shift that promises to enhance patient experiences and outcomes while controlling healthcare costs. With a growing emphasis on this approach, especially over the […]
Read More