Are Virtual Field Trips Going to Remain Relevant Post-Pandemic?
Virtual field trips or expeditions have gained in popularity in recent years, and the COVID-19 global pandemic has given the concept a boost as schools and now parents scramble to bring relevant, stimulating learning experiences out of the classroom and into their pupils' new reality. Now, a year into the pandemic, classrooms are beginning to reopen, but the practicality and benefit of interactive virtual learning has drawn growing appreciation throughout the field of education.
Educators everywhere have come to acknowledge how easily interactive virtual learning gives students the experience of a real field trip without leaving their homes — or their hometowns.
The heart of the interactive experience is live conversations with educators and experts who are passionate about their work and love to share their knowledge with eager learners. Museum curators, historians, authors, researchers, and other expert instructors engage directly with students during the virtual expedition to create a rich, compelling learning environment.
And students love it. Participating in live virtual field trips encourages them to become deeply engaged with the subject matter, whether it's a real-time virtual dive in the Great Barrier Reef or a tour of the Smithsonian's National Air and Space Museum and so much in between. I have watched students in Australia interact with students in Korea for cultural exchanges. And I have seen the look on teachers' faces when they see interactive virtual learning in action, that Aha! moment when they see how this tool can help teach any topic to any standard.
Over the past few years, the virtual field trip has evolved into a dynamic, interactive, immersive experience that transports students virtually anywhere in the world to explore in real time the sights and wonders of the world around them. At first, these live, interactive programs from museums, science centers, and art galleries were a tough sell. Many educators didn't believe they had the technical skills or the resources to acquire and use expensive distance learning equipment, and the cost of such programs was often prohibitive for cash-strapped school districts to justify.
That resistance has all but melted away as the pandemic has mandated at-home education for the past year and counting. Not only schools and educators but home-school parents and parents who have suddenly found themselves in the daunting role of classroom teacher with little support from their school districts, have welcomed the accessibility, versatility, and infinite variety of high-quality learning experiences afforded by virtual interactive education programs.
For their part, professional educators have developed a new appreciation for virtual learning. They are finding that many students actually perform better in the remote setting, and many now believe teaching will never return fully to the traditional in-person classroom model.
The concerns of the technology-shy have fallen by the wayside, as well. Educators, parents, and students alike have learned to adapt to the easy-to-use business conferencing Zoom platform and similar modes of multiparticipant online communication. Over the past pandemic year, Zoom has become the de facto classroom for millions of students worldwide, and it runs on most readily available hardware, such as desktop computers, tablets, and even smartphones. (Other cloud-based delivery modes include Webex, Google Hangout, Google Meet, and Microsoft Teams; all make video interactivity widely accessible, some at little or no cost and others flexibly fee-based.)
Not only classroom educators are availing themselves of the virtual platform. As museums have been forced to shut their doors, they have discovered new validation for distance learning initiatives within their organizations. Their staff program directors have become the go-to sources within their institutions to develop more content for distance delivery, in many cases to much wider audiences than when their services were available in person.
People of retirement age and in retirement communities are another growing market for interactive learning. Those who can no longer travel for physical or financial reasons, or who simply want to see and learn as much as possible about the wide world around them, can check off their bucket lists virtually from the comfort of their living rooms or retirement centers.
If you're looking for that one technology that can grab and hold students' attention, interactive virtual learning is it. And now it's available at a cost that all districts can manage. Web- or cloud-based videoconferencing has become reliable, stable, and much more cost-efficient over the past few years, and the pandemic has made its adoption not a method of last resort, but rather a viable, enriching, enduring approach to teaching and learning in 2021 and beyond.
—
by: Jan Zanetis
An educator and university administrator, Jan Zanetis spent 20 years in K-12 and higher education, later moving into the corporate sector as an education specialist with Cisco and Tandberg. She has extensive expertise in applying video technologies to education and currently serves as managing director at The Center for Interactive Learning and Collaboration (CILC), a not-for-profit organization that serves educators, learners, and content providers.
Follow us on social media for the latest updates in B2B!
Twitter – @MarketScale
Facebook – facebook.com/marketscale
LinkedIn – linkedin.com/company/marketscale
Latest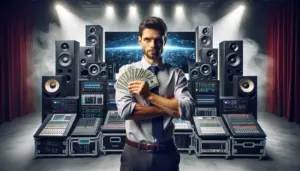 December 8, 2023
Mastering AV sales strategies in a global professional audio-visual (Pro AV) market, poised to reach $79.2 billion by 2028, requires much attention to detail. The surge in demand from corporate, government, and institutional sectors, driven by the need for enhanced productivity and efficient working environments, gives AV sales pros a lot of opportunity. In […]
Read More