Don't Toss That Tech!
While not exactly on the front lines, CEO Garry VonMyhr and his team at Tech Defenders, a Grand Rapids, Michigan-based information technology asset disposition (ITAD) and electronics recycling and repair company, have certainly become an essential service for schools. In this episode of Remote Possibilities, Garry discusses the surge in need for devices and the changing attitudes towards refurbishing and maintaining tech for new remote learning environments.
Founded in 2015, Tech Defenders is focused on the re-marketing and re-use of refurbished devices like laptops, tablets, and phones and currently processes 45,000 laptops and tablets per month. The company was just ranked 657th on the 2020 Inc. 5000 Fastest Growing Companies list. Growing 714.68% in three years, the company is also the fastest-growing ITAD (IT Asset Disposition) company in the country.
This is the 3rd time a company has made the list for this ownership group, which includes Garry, Jordan Notenbaum (Co-Founder), and Steve Barnes (Co-Founder). The other companies that made the list were Mobile Defenders (No. 214 – 2017) and Genius Phone Repair (No. 750 – 2016). "Making the Inc. 5000 list has been a goal of ours for years. This award allows us to be part of an elite group of rapidly growing companies that are innovating and providing incredible solutions to their customers. This is a great privilege for me, my company, but most importantly, my teammates who are the backbone of our organization, Garry said. "This award is also very timely, as our staff has worked harder than ever before to serve our customers who either need technology or require additional funds for their IT program. We are grateful we can serve in such a big way during these unprecedented times."
The Device Buyback process is part of the ITAD (IT Asset Disposition) Industry; a billion-dollar industry that was created shortly after the boom of mobile technology. Through the Asset Disposition process, the life of the device is extended and reduces the negative impact that e-waste has on the environment. That business model involves purchasing used mobile devices (laptops, tablets and phones) to then repair and refurbish them and "thoroughly wipe all sensitive data." Once devices are in a sellable state, they are sold to retailers around the world. Tech Defenders works with organizations that have large fleets of mobile devices, such as school districts, hospitals and businesses. In 2019 alone, the company says it kept 496 tons of electronic scrap from ending up in landfills.
Tech Defenders is also very passionate about giving back to their community. Since the start of the pandemic, the company has donated hundreds of devices, masks, and wipes to schools, hospitals, and community partners that are most impacted. Organizations are encouraged to apply to their giveback program on their website.


Latest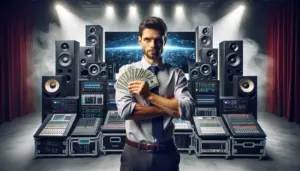 December 8, 2023
Mastering AV sales strategies in a global professional audio-visual (Pro AV) market, poised to reach $79.2 billion by 2028, requires much attention to detail. The surge in demand from corporate, government, and institutional sectors, driven by the need for enhanced productivity and efficient working environments, gives AV sales pros a lot of opportunity. In […]
Read More