Why Are EdTech Investments Surging?
Host JW Marshall was joined by Tony Wan, managing editor of EdSurge, to talk about educational technology (EdTech) and its place in today's strange world.
According to Tony, EdTech has been on the rise over the past decade as K-12 schools gradually integrated a greater degree of technology into their curriculums. More widely implemented broadband connections, cheap chromebooks and other technologies helped both students and teachers pinpoint strengths and weaknesses in education systems and then adapt accordingly.
As for businesses that built around selling equipment to schools, this pandemic has not been very kind to them. "It was a system shock," said Tony. "It was a big short-term blow to companies that were relying on those deals with schools…this procurement cycle is very key to your survival year after year."
As for online education and micro-credentialing platforms, business is better than ever. In fact, for some companies it's maybe even too good, as Tony noted with an anecdote about Khan Academy seeking more funding for the increased server costs associated with higher traffic.
The two went on to talk about other challenges, such as education-parallel industries that have struggled, or failed completely, in the wake of the pandemic, such as ride-sharing services and networking services for teachers and substitute teachers.
Tony pointed out some rising stars, such as Udemy and Masterclass, that blend entertainment with education in a consumer-facing market. "Why can't education also be entertainment?" he asked.
As for the future of EdTech in a, hopefully, post-pandemic world, Tony had this to say: "No matter what returning to school looks like, I think that, for everyone, for the education system, this whole experience has kind of forced them to…better prepare for remote and virtual learning solutions."


Latest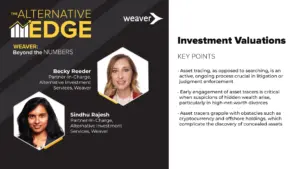 December 4, 2023
In this episode of The Alternative Edge, a Weaver: Beyond the Numbers Podcast, host Becky Reeder, an audit partner and co-leader of the alternative investments practice at Weaver, engages with Sindhu Rajesh, an Alternative Investment Services Partner with Weaver. They unpack the complexities of venture fund valuations, offering critical insights into industry dynamics and best […]
Read More