Examining How Students Connect Knowledge
Celebrating the leaders and experts that are powering education into the future, host JW Marshall sets out to ask the "right questions" in EdTech to understand the changes in policy and technology that will power our universities, tradeschools, and companies – and drive growth in upskilling certifications.
In today's dynamic global economy, one that is based on the development and exchange of knowledge and information, students who are competent in an array of disciplines and can move nimbly among them are more likely to thrive. Integration in learning is an exceedingly valuable tool to foster multidisciplinary skills in the classroom, helping students acquire broad-ranging expertise that ensures they can successfully manage complex issues in their personal and working lives, as well as handle the broader societal issues of both today and the future.
On this episode of MarketScale's Voices of eLearning podcast, Dr. James P. Barber, the Senior Associate Dean for Academic Programs and Associate Professor of Education at William & Mary, as well as an expert in the areas of college student development, assessment of student learning, and integrative learning, joins host J.W. Marshall to provide a more in depth understanding of the integration of learning concept, the importance of reflection in the integration of learning, and the five ways educators can help students integrate learning (mentoring, writing, encouraging juxtaposition of ideas, hands on experiences, and embracing diversity and identity).
Barber, who recently authored a new book—Facilitating the Integration of Learning—explained, "We live in a very compartmentalized world. So, we learn things in the classroom. We learn things at home. We learn things with groups or organizations. We learn things at work. And the integration of learning is how we connect what we're learning in those different areas—how we connect knowledge that is obtained in those different areas and leverage it in other areas."
Thanks to Stylus Publishing, LLC. for sharing my work! You can get free shipping and 30% off my
book
by using the code IOL20 when you purchase on their
website
.

Latest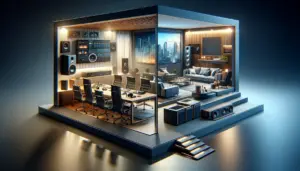 November 27, 2023
In this episode of "Pro AV Today," host Ben Thomas sits down with Audra Kinsley of Sonos Professional to unpack a topic that's causing (sound) waves in the audio industry: the fusion of commercial and residential audio systems. As we navigate through a landscape where consumer and professional audio worlds are increasingly intersecting, Sonos steps […]
Read More