Get Comfortable Being Uncomfortable
We are creatures of habit, always have been and probably always will be. We are now also, thanks to the success and efficiency of technology, creatures of comfort. Unwinding after a hard day's work is something everyone deserves, yet it is this very unwinding that can lead to an uncoupling of our surroundings, our intentions, and ourselves. How do we fix that?
In this short-feature episode of Change Starts Here brought to you by FranklinCovey, host Dustin Odham takes a deep dive into what it means to get comfortable being uncomfortable.
His main points:
How habits can turn negative when using them for avoidance
How silence is a springboard for growth
Why taking time to be uncomfortable has helped expand personal horizons and deeper reflection
"I feel so much more focused, so much more intentional and I don't know how to explain the real feeling, but the ownership that food has over me is not completely gone…but I don't crave them all now and I have the proper perspective on it…But the challenge I gave myself and each of us and my friend gave me was: Do we have the awareness to enter into the wilderness, into the silence, into the isolation, and do we have the courage to stay there?" said Odham.
Odham is the Managing Director for the Education Division at FranklinCovey and has been with FranklinCovey for over 10 years. He has over 16 years of experience in the educational landscape and in leadership roles for a variety of companies, including St. Louis Public Schools, Maritz, and Teach for America. Odham earned his BBA in Finance from Southern Methodist University.
Latest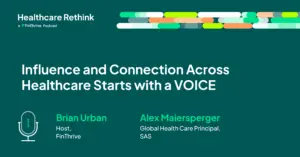 September 29, 2023
In the latest episode of the Healthcare Rethink podcast, presented by FinThrive, host Brian Urban sits down with Alex Maiersperger, the Global Principal Healthcare at SAS. Their conversation charts the role voice plays in influencing and connecting the healthcare industry. Maiersperger, who co-founded the Advancement League, shares his journey from being a healthcare optimist to […]
Read More