How One Startup is Targeting the Growing Threat of Cross-Language Plagiarism
Key Points:
EdTech gained steam during the pandemic as classes moved online.
Technology also increased opportunities to cheat and plagiarize.
Cross-language plagiarism is a growing threat, as tech allows translation of languages.
Commentary:
EdTech has become more important in the last year and a half and, with technology, has more opportunities to cheat and plagiarize material. The beauty of EdTech is that it is global, so it allows individuals from countries across the world to learn new things. With more languages intersecting comes the potential of cross-language plagiarism, which is when the student uses the source content in one language and the plagiarized content in another. We asked Eric Gibbs, who is the President of Ouriginal, a plagiarism software, and this is what he had to say about the growing threat of cross-language plagiarism.
Abridged Thoughts:
I think we have to first identify what is plagiarism to move on to the more complex question of cross plate cross-language plagiarism. So plagiarism is to steal the ideas or words of another without crediting the source. Since we are in a global education setting, I would say the students are multilingual. This presents academia with potential issues of combating cross-language, plagiarism, and research misconduct. Technological solutions are available to assist as an efficiency component known as cross-language, text, text matching, or seal team, as we call it. These tools identify matching content that has been translated from one language to another.
More Stories Like This:
Kevin Hogan host of EdTech sat down with Todd Zipper president at Wiley Eduation Services to discuss that report and what it could mean for Wiley Education Services going forward.
A key to student success is parental engagement in their children's school work. Sounds easy, but as we all know life can get in the way.
Latest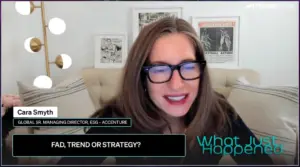 November 30, 2023
The world is in an era where sustainability and responsible retail business practices are increasingly crucial. For the latest episode of "What Just Happened," host Christine Russo further explored the hows and whys of this pressing issue by interviewing Cara Smyth, Global Senior Managing Director for ESG and Responsible Retail at Accenture, and Chair […]
Read More