The Future of E-Learning: How the Coronavirus Pandemic Changed Preconceived Notions about Education
Finding a way to effectively and fairly educate all of society's young people already was a daunting task. Then, the COVID-19 pandemic hit and added another wrinkle for educators and administrators to deal with.
Arlynne Roa Awayan, Director of Customer Success and Engagement at CYPHER Learning and former president of the Philippine eLearning Society, has been thinking about how to improve education and distance learning for years. She went into overdrive during the pandemic, trying to help districts and institutions that were scrambling to figure out a way to effectively teach kids when they couldn't be in the classroom.
"I think I've been advocating for the integration of technology in learning and teaching for many, many years now, but with the many organizations I've been talking to, schools, teachers even, they always thought of technology as an option. It's something meant to be an enhancement of what they're already doing in the classroom," she said. "I think a big part of what's happening now is a lot of the school administrators and school leaders are forced into the situation where they have no choice but to use technology."
It's not as simple as implementing a learning management system or partnering with an E-Learning company, she said, but about picking the right solution for that institutionalization and making sure it works for everyone involved in the process. That even includes parents, who have had to take on extra responsibilities for the children's schooling while often also trying to work from home or figure out a budget with a reduced or eliminated salary.
Now that many schools are ramped up online, the education world may be fundamentally changed.
"Some people are still thinking that this is just what we're doing because of the pandemic, but I think this is really going to change the way things are for education moving forward, because it proves students don't need to be in school for six hours every day or just listening to a lecture every time," she said. "There are so many ways of teaching, and those are the things that will be very helpful moving forward."
For the latest news, videos, and podcasts in the Education Technology Industry, be sure to subscribe to our industry publication.
Follow us on social media for the latest updates in B2B!
Twitter – @MarketScale
Facebook – facebook.com/marketscale
LinkedIn – linkedin.com/company/marketscale
Latest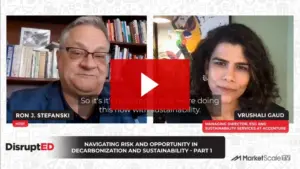 September 26, 2023
The global conversation has shifted dramatically towards decarbonization and sustainability in recent years. With the world experiencing unprecedented levels of disruption, from 5G technology to the challenges of a pandemic, the urgency to address climate change and its implications has never been more palpable. Although most business leaders see the vision of Sustainable Development […]
Read More