Investment Trends in K-12 Education and EdTech
Celebrating the leaders and experts that are powering education into the future, host JW Marshall sets out to ask the "right questions" in EdTech to understand the changes in policy and technology that will power our universities, tradeschools, and companies – and drive growth in upskilling certifications.
Public school funding is always a complex topic. With stimulus money funneling in, there are many opportunities for K-12 districts to build a better future. Host JW Marshall welcomed back Mike Belcher, Director of EdTech Innovation at HP, to discuss where schools should spend over $67B in one-time funding. While it's a nice number, it's still not enough. This funding must be spent by the end of 2021, as allocated by the stimulus bills. So, where can public schools invest that will provide long-term impact?
"The guidance we're offering is to put a plan in place as soon as you know your district's dollars. The first area would be improving that hybrid model for learning," Belcher said.
Included in that hybrid approach is technology and infrastructure but also improving the instructional process. "Investing in an instructional strategy to move into project-based learning and solving real-life programs. Think about what you'd do if money were no object, then prioritize," Belcher explained.
Funding is a complex decision-making progress with lots of stakeholders. Belcher suggests "bringing the public back into public schools." That would involve communities, parents, and businesses.
The third group, business, could be a great partner for K-12, especially around STEM, because that's the future of jobs. Belcher added, "With a STEM background, people can earn 40 percent more, so it would be a disservice not to include data science into curriculums. A great example is Gwinnett County Schools. They are partnering with businesses to build a curriculum based on data science from pre-K through grade 12."
There are long-term benefits to investing in STEM and technology, both for preparing students for sustainable careers and revolutionizing public education.

Latest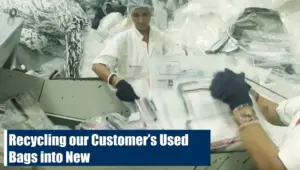 December 6, 2023
This video focuses on EcoLOK4, a groundbreaking product by CONTROLTEK that exemplifies innovation in sustainability. It highlights the process of transforming landfill waste into new deposit bags, with 90% of each bag's material being repurposed trash. This initiative not only reduces waste but also closes the sustainability loop, demonstrating CONTROLTEK's commitment to environmentally friendly […]
Read More