Leadership Cradle to Career with Tricia Valasek
Preparing for the future has always been a main tenet of education. As the future of the workplace continues to change with advancements in technology, community workforce development initiatives are becoming a key part of local infrastructure in staying with the times and ahead of the curve. While these initiatives spark change in local communities, how is bringing back education helping to change lives?
In the latest episode of Change Starts Here brought to you by FranklinCovey, host Dustin Odham chats with guest Tricia Valasek, Executive Director at Raise the Bar, about the community workforce development initiative of "Raise the Bar" in Hancock County, Ohio.
The two discuss:
Why it's important to continue learning at every age
How initiatives like Raise the Bar connect people with what they need
How partnerships with initiatives like Raise the Bar can spark other communities to make an impact
"We're a heavy manufacturing community. One in four jobs in our community is manufacturing and…automation is coming, so how do we make sure that we are as progressive as we can be, as we bring in new types of products and materials to produce for our community and for the world? So, we started to diversify where we are heading and that brought in the adult workforce side as well," said Valasek.
Tricia Valasek has had a diverse career in a variety of fields, with one common theme – always striving to help others. Valasek started off in the science field, even earning her B.S. in Biology and her M.P.H. in Epidemiology, both of which led her to a career with the National Association of Local Boards of Health as a Senior Project Director for six years. Following this, she worked for the University of Findlay as a Grants Manager and the Co-Founder for the Findlay-Hancock County Center for Civic Engagement before starting her role as Manager and now, Executive Director, for Raise the Bar Hancock County.
Latest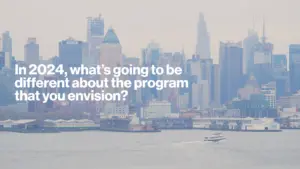 December 1, 2023
In the dynamic telecommunications landscape, Verizon's Partner Network continues to evolve, adapting to new trends and opportunities. For another segment featuring Mark Tina, VP of Indirect Channel Distribution and Channel Chief at Verizon Business Group, he explores exactly what types of significant changes and advancements the Verizon Partner Network will see in 2024. In this […]
Read More