Living in Joy, Empathy and Imagination with the Co-Creator of Kid President
Change Starts Here and host Dustin Odham, Thought Leader for FranklinCovey Education, are back with another thought-provoking and inspiring episode – this time featuring a bona fide legend in the field of education.
In 2013, a video swept through the internet, bringing joy to all who viewed it. It featured then-11-year-old Robby Novak, dressed to the nines in a suit, tie and sneakers, delivering a pep talk as the now fabled "Kid President."
Brad Montague, Novak's brother-in-law, was part of the dynamic duo that made that video happen. Since, Kid President's videos have been viewed over 100 million times.
Montague, whose stated mission these days is to "create stories that cultivate empathy and imagination in kids and former kids," joined host Dustin Odham on this episode of Change Starts Here to explore how he and his family are "joyfully rebelling" against the way things are to craft a better world.
Since Kid President, Montague has authored "Becoming Better Grownups" and helped bring to life "Kid President's Guide to Being Awesome," and his conversation with Odham centered on ways to focus on love and your "why" as opposed to the simple "what" of your day-to-day journey through life.
Montague told a story about how he and Novak met Supreme Court Justice Sonia Sotomayor, who sidestepped Montague's most-dreaded question, "What do you do for a living?," with a new one – "What do you love about what you do?"
"It's really cool when you hear somebody put words to their love," Montague said. "I'm a words person, so I need to hear those things. I think for any team, anywhere to hear from their fellow team members why they love being with them, why they love the little things about their work. … That breathes life to even more good."
The opinions in this episode do not necessarily reflect those of FranklinCovey or the Change Starts Here Podcast. You can access the full notice and disclaimer at this link: https://documentcloud.adobe.com/link/track?uri=urn:aaid:scds:US:e498c459-cdca-4a53-80c5-33d53c9a1359
Latest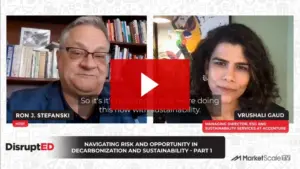 September 26, 2023
The global conversation has shifted dramatically towards decarbonization and sustainability in recent years. With the world experiencing unprecedented levels of disruption, from 5G technology to the challenges of a pandemic, the urgency to address climate change and its implications has never been more palpable. Although most business leaders see the vision of Sustainable Development […]
Read More