MAP AIMS To Automate Reading Level Assessment
We spoke with Jennifer Knestrick, the Senior Product Manager for Early Learning Assessments at NWEA, at this year's ISTE 2018. This research-based, non-profit supports students and educators worldwide by creating assessment solutions that precisely measure growth and proficiency. Their famous assessment programs include MAP Growth, which has been around for decades and helped 10-12 million students find out if their learning is on track, identify gaps, and help motivate them to help them catch up.
Jennifer spoke with us about NWEA's newest product, MAP Reading Fluency. This new digital platform uses powerful speech recognition technology to asses reading levels in a fun, online environment. According to Jennifer, it can take teachers 40 hours to manually assess and benchmark their class' reading levels and, particularly since this process must be repeated throughout the school year, represents a significant amount of valuable teaching time.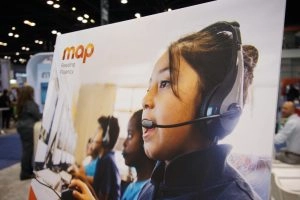 This new MAP product seeks to automate the process. Now, students can use headsets and read sections of text out loud while they are analyzed by the computer. It is an adaptive test that quickly finds the students' reading level and provides "timely data for teachers and families to figure out where the difficulties are."
Jennifer explains, "the 1:1 model is so labour and time intensive that it shrinks down what you can really asses to just what can be managed by one human being in 60 seconds. The point of reading is really to understand, to develop deeper skills and we are able to do that much more effectively online."
With many new digital learning tools utilizing fun elements and games, MAP Reading Fluency has a similarly light touch with a "friendly, colorful, and approachable" design, though Jennifer stressed that the product was only "lightly game-ified" for the target audience of kids ages 5-9.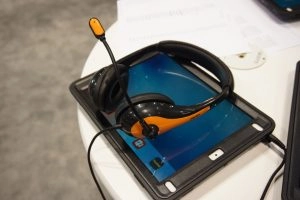 One of the typical complaints with digital educational materials is a lack of personalization. Jennifer is adamant that the MAP Reading Fluency makes it easier to asses reading levels in a more personalized way. Not only is the test smart and adaptive, it can be easily repeated to better track progress. Jennifer emphasizes that "timely data for teachers and parents is extremely important," and the MAP assessment delivers detailed diagnostics about areas in which the individual student needs to focus on. Best of all, the detailed diagnostic data and audio recordings are saved online for later use by parents, teachers, and students. This allows them to actually hear the students progression over time, which is helpful for the teacher and encouraging for the kids.
Though the speech recognition technology is powerful and smart, as Jennifer puts it, "it's not exactly AI." The core technology is called EduSpeak and is developed by SRI. NWEA's partners, LanguaMetrics, then embeds the SRI tech into the MAP assessment. The system scores the audio signal relative to the text to accurately measure the individuals's reading ability. It's a truly impressive piece of technology since, as Jennifer describes with a laugh,"It's a very challenging space because young kids aren't that articulate."
The EdTech industry is seeing a push to make tools that save teachers time and get the most out of digital technology. Jennifer notes, "in general the teaching work force becoming more comfortable with technology…. What we see in this age group [5-9] is that a very large proportion of schools have 1to1 iPad programs or at least access, so the kids are completely adept with these devices."
That voice recognition is accurate enough to do an automatic reading assessment is testament to how far we have come with development in every day tools such as our digital assistants. As Jennifer points out, we all have a Siri or an Alexa in our pocket, so the technology is becoming mainstream enough for parents and educators to really trust it in the classroom; 6 or 7 years ago this would simply not have been possible.
Latest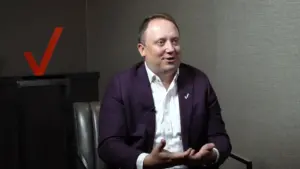 December 1, 2023
For a special episode of The Verizon Partner Network the focus was on the considerable role of partnerships in the Verizon Partner Program and the leaders shared their perspectives on the initiative. Their conversation brought about a lot of thought-providing context on the evolving telecommunications landscape. In today's era, collaboration and integration are key to […]
Read More