RIP SAT. Hello micro-credentials!
If ever there was a time to change the way we assess, Megan Harney and Patrick Leonard believe it is now. In fact, the CEO and COO of MIDAS Education have already started. In this provocative episode, the pair describe how some districts and universities are transitioning away from traditional testing and discuss how these techniques can scale to become the new norm.
The State of Utah is using MIDAS technology to implement micro-credentialing. This is their description of how it works: "Microcredentials, also known as digital badges, represent evidence-based instructional skills or concepts. A micro-credential is proof that the earner has demonstrated that they effectively and consistently use the target skill or concept as a part of instructional practice.
Any educator in Utah's K-12 public education system can earn Utah Microcredentials. This includes educators in both district schools and charters. We strive to develop micro-credentials that can be earned by educators in a range of roles, including classroom teachers, instructional coaches, counselors, administrators, etc.
Microcredentials give the earner two things: bragging rights and USBE credits. You'll want to post your Microcredentials for others to see on social media and include them on your resume so employers can see your skillset. Microcredentials are worth either 0.25 or 0.5 USBE credits, depending on the skill or concept they represent."
More than just micro-credentialing, MIDAS Education is a company that provides enterprise software for school districts. It helps solve the challenge of getting disparate data systems to work together to best serve students and teachers. MIDAS's solution is housed in one database that serves many needs: student information, staff timesheets, learning management, assessment, facilities management, teacher evaluation, and more. The Midas Data Explorer tool lets users work with data flexibly and intuitively, eliminating the need for custom queries and reports. Midas simplified education workflows so teachers can focus on what they do best – teach.

Latest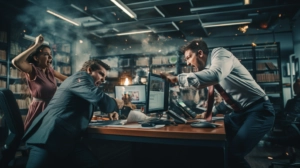 September 22, 2023
The kind of news that is delivered everyday serves as a grim reminder of the escalating violence across the U.S. Evidently, the need for proactive measures to ensure safety has never been more pressing. Such violence is not limited to any particular locale. It's actually permeating in so many different areas once considered […]
Read More