Talking Technology in Classrooms with Prof. Bruce McLaren
Associate Research Professor at Carnegie Mellon University Bruce McLaren is, modestly speaking, an expert in the field of education. Specifically, his work explores the benefits and value of incorporating technology in classrooms through games, intelligent learning systems, e-learning principles, and collaborative learning. With over 150 publications under his tenure, he has become a valuable resource in the ever expanding field of modern educational research. MarketScale Education Technology had the opportunity to speak with Professor McLaren about the direction teaching and learning is heading.
His technological studies, in regard to education, have produced surprising results. One study of his, conducted at Carnegie Mellon, found children are able to learn decimals by playing a web-based educational game easier than by using traditional technology. Professor McLaren's work also touched on technologies like AI and web based collaborative platforms that help teachers moderate discussions and promote dialogue amongst students and teachers.
The technology being tested and studied is far more futuristic than one might have first imagined.
When asked about emerging trends in educational technology, Professor McLaren showed us how far we've come in terms of technology in the classroom. "Most recently, we have seen a trend for teachers using technology, such as dashboards that allow them to better observe and support their students. I've personally been involved in a project where we have implemented a dashboard in the smart glasses the teacher wears while leading a class" says McLaren.
The dashboard system was a key part of a project he was involved in called Metafora. The project, founded in 2010 and completed in 2013, resulted in the creation of a Computer Supported Collaborative Learning system designed to help students aged 12 to 16 learn math and science in an effective and enjoyable way. When asked for more examples of new technologies being used right now in classrooms across America, Professor McLaren also listed smart glasses, intelligent tutoring systems and educational games. In regards to what he sees on the horizon for educational technology, he believes there will be an "Increasing growth of technology for learning. Augmented reality and virtual reality for learning."
Learn more about Bruce Mclaren and Metafora.
Latest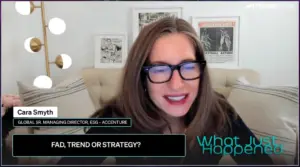 November 30, 2023
The world is in an era where sustainability and responsible retail business practices are increasingly crucial. For the latest episode of "What Just Happened," host Christine Russo further explored the hows and whys of this pressing issue by interviewing Cara Smyth, Global Senior Managing Director for ESG and Responsible Retail at Accenture, and Chair […]
Read More