The First Step in the 'ADDIE' Process – Analysis
The "A" in ADDIE stands for Analysis. During this stage, the instructional problem is clarified, goals and objectives are established, and the end goals of the course are identified.
You should be looking at what types of learning constraints exist whether it be LMS limitations, regulatory limitations, language barriers, etc. You'll also need to identify the target audience of the learning material whether that be a certain age group, skill level, a customer, an employee being onboarded, etc.
During this phase, you'll also be establishing a timeline for the project completion and setting milestones along the way for approvals.
That was your Online Learning Minute at Marketscale. Tune into next episode where we talk about the Design phase on the ADDIE process.
Latest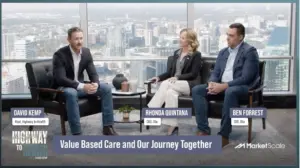 December 7, 2023
As of recent times, the healthcare industry has been progressively shifting towards value-based care, a model that emphasizes patient outcomes over the quantity of services delivered. This transition represents a significant shift that promises to enhance patient experiences and outcomes while controlling healthcare costs. With a growing emphasis on this approach, especially over the […]
Read More