The Intersection of eSports, Education and Engagement
On this episode of MarketScale's EdTech podcast, host JW Marshall was joined by Lenovo Global eSports Solutions Manager Jeff Palumbo for a discussion about the rapidly expanding world of eSports – and how it's set to reshape education, engagement and more.
Currently, Lenovo is differentiating itself by that integration, offering a new look at eSports through the lens of education that many in the industry aren't.
"One of the things that we're trying to do is really be school-focused," Palumbo said. "We're finding that (in) K-12, and even higher education, every school is different in the needs that they're trying to accomplish.
"Instead of just saying, 'Hey, there are the computers that you need to do gaming,' we come in and have a discovery meeting."
This initial planning phase helps Lenovo find a unique solution that meets a particular school's set of needs in the realms of space, students, budget, and more as opposed to falling back on a one-size-fits-all approach.
This approach is aimed at future-proof solutions ready to expand alongside the continued growth of eSports and addressing the challenges of implementing eSports and gaming on campuses, such as space constraints, funding, and more.
Latest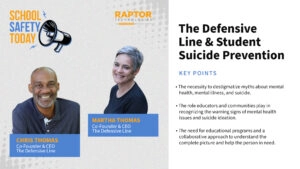 September 22, 2023
Student suicide prevention is a paramount concern among mental health providers. For one organization, student suicide prevention is more than a concern: it's their mission. The alarming rise in mental health crises among youth has become a pressing concern in recent times. With the complexities of modern life and the challenges of the digital […]
Read More