The New Style of Educator Professional Development
One of the things that should never go back to normal post-pandemic is traditional professional development. In this episode, Adam Geller, Founder and CEO of Edthena, details how new technologies behaviors give teachers more agency over their professional learning. Is this the end of sit and git?
As part of the company's focus on the educator, Edthena last month announced this year's honorees for the Teacher Leader Impact Awards which recognizes the outstanding achievements of teacher leaders nationwide. All nine of the honored educators were nominated by an administrator in their district for making a measurable impact on others and creating positive lasting change.
"We were blown away by the truly remarkable accomplishments and contributions of teacher leaders from across the country," said Adam Geller, founder and CEO of Edthena. "From supporting students and fellow teachers to spearheading school-wide initiatives, all of the honored educators exemplify true leadership and are so deserving of this recognition."
This year's Teacher Leader Impact Award recipients are:
Tasha Jones of Putnam County Charter School System in Eatonton, GA
Daniel Miller of Fairfax County Public School System in Falls Church, VA
Stacy Musick of Chambersburg Area School District in Chambersburg, PA
Meagan Pryor of Keller Independent School District in Keller, TX
Desire Roberts of Nampa School District in Nampa, ID
Jill Taylor & Holden Rowe of Broken Arrow Public Schools in Broken Arrow, OK
Marisa Specht of Griffith Public Schools in Griffith, IN
Alicia Stevens of Metropolitan School District of Lawrence Township in Indianapolis, IN
"This year teachers have worked so hard to ensure students feel safe, respected, and have their social and emotional needs met, all while working to meet rigorous academic expectations," said Alicia Stevens, honored teacher leader from Indiana. "ALL teachers have done a phenomenal job to make this year happen. It is truly an honor to be chosen for this award!"
During the nomination process, district-level administrators provided a summary of the nominee's achievements and a description of why the nominee is deserving of this recognition.
"Daniel is a lead teacher by nature and creates a learning ecosystem that is second to none. I have never seen anybody who creates community while at the same time topping the charts on test scores," noted a Fairfax County Public School System administrator in the nomination of Daniel Miller. "There is no doubt he leads with inclusion, equity, and opportunity at the core and that is transformational."
To learn more about the Teacher Leader Impact Award and this year's winners, visit https://teacherleaderimpact.org/.
Follow us on social media for the latest updates in B2B!
Twitter – @MarketScale
Facebook – facebook.com/marketscale
LinkedIn – linkedin.com/company/marketscale
Latest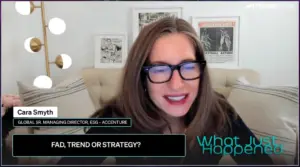 November 30, 2023
The world is in an era where sustainability and responsible retail business practices are increasingly crucial. For the latest episode of "What Just Happened," host Christine Russo further explored the hows and whys of this pressing issue by interviewing Cara Smyth, Global Senior Managing Director for ESG and Responsible Retail at Accenture, and Chair […]
Read More