Using Creativity to Reimagine Student Success
Mala Sharma is VP & GM Creative Cloud, Product Marketing at Adobe. This article originally appeared here:
This year — a year like no other before it — sees students heading back to schools that are vastly different than the definition of "school" they've grown up with. Not only do students have to acclimate to classrooms that look quite different, they also find themselves acclimating to a future with many unknowns.
Last week at The Anywhere School, a virtual event presented by Google, I had the honor of speaking about this moment in time and the inflection point it represents for education. I was inspired to learn from, and share insights alongside, some of the brightest minds in the industry and discuss how we can be better partners to, and advocates for, students—aka the leaders of tomorrow.
COVID-19 and subsequent shelter-at-home orders have not only affected the way teachers teach and students learn in the near term — they have also jump-started an important, longer-term conversation about what is and isn't working in our current education system — a conversation that has been needed for years.
And we're presented with a unique opportunity for all invested parties — from educators, academic leaders, and policymakers to parents and, most importantly, the students these institutions support — to use our collective creative minds to reimagine what student success in our education system looks like.
Adobe's Education group always strives to have our finger on the pulse of all of these parties — and, given the unprecedented nature of this school year, this past June we reached out to more than 1,000 high school students across the U.S., while many were sheltering at home to gauge their sentiments about school, their plans for the fall, and their feeling about their futures after everything that has happened in 2020.
Here is what they told us:
While nearly one-third reported they're likely to consider a gap year before college, 90% are still likely to attend a four-year college or university.
More than half (57%) now believe that what they learn outside of school is more important in preparing them for their future than what they learn in school. That's a 30% increase from 2016.
While the number of students feeling worried, nervous, or scared about the future has increased by 17% compared with 2016, the vast majority (85%) are still optimistic about their futures.
Despite unprecedented uncertainties and the rise in their worries, 18% more high school students today have a dream job they're working toward than they did in 2016. What's more, today's dream jobs are in a creatively diverse set of careers, such as the arts, nursing, design, and engineering.
(Click here to see the full 2016 study.)
So what can we learn from these student sentiments?
First and foremost, today's students are resilient.
Despite this year of tumult, the vast majority plan to stay their course and go to college — which is wonderful news.
They've learned to learn anywhere, whether inside or outside of the classroom. These kids are true creative problem-solvers.
Students can push past their concerns — which are plentiful — and hold onto their optimism and curiosity. These are some of the most important qualities in life.
No global pandemic or chaos will take away students' hopes, goals, and dream jobs — and their dream jobs are quite grounded in creativity!
We also know from our recent studies on creative problem solving and creative skills for today's — and tomorrow's — workforce that creativity has never been more important to the success of our students. Not only do they need creativity to imagine new heights, set goals for their futures, and create new pathways to achieving those dreams, they also need creative skills — like critical thinking, communication, and collaboration — to effectively navigate the rapidly evolving and highly competitive workforce.
We see this play out in a range of career fields: Those with creative skills not only have a competitive edge in their pursuit of a job, they're also able to leverage those skills to contribute to the organizations for which they work in deeply meaningful ways. One wonderful example of the latter comes from the National Park Service. A team including six Black women employees and interns created a film titled "Twenty and Odd" to help educate the nation about the trauma, resilience, and beauty of the Black experience in the U.S. through the lens of sites stewarded by the National Park Service.
This story is a shining example of what is possible when students of any age, who have a story to tell, are given the digital tools to tell it. Their stories are beautiful, powerful, and important, and they need to be told.
As the proud daughter of an educator mother, I know that fostering these skills begins with access to effective tools, whether they're used within or beyond the classroom. When we offer students the resources to develop creativity, showcase these skills, and tell stories that matter to them, they can inspire hope in their communities, differentiate themselves from their peers, and find success in professional roles.
Despite the challenges of distance learning, as educators, academic leaders, and business leaders, we must serve students beyond the four walls of the traditional classroom. We must acknowledge that they have complex lives and interests, and that they each face unique challenges during this unprecedented time. And, as we're all in the business of fostering student success, we must ensure that we facilitate learning through the modalities and tools that are most meaningful and relevant to them.
New Technology High School in Napa, Calif., demonstrates this well by integrating creative tools throughout its curriculum — and it is continuing to find new ways to bring engaging learning opportunities to students during the COVID-19 pandemic. Lisa Gottfried, a digital media & video teacher at NTHS recently told me that she plans to use Adobe Character Animator — which uses your expressions and movements to animate characters you design in Photoshop or Illustrator — to bring her lessons to life for her 9th graders in ways that will resonate with them and engage them more fully.
Beyond fostering engagement and other positive student outcomes "in" the classroom, exposure to — and the ability to use — creative tools gives graduating high school seniors a leg up as they embark on their next steps, whether that's entering the job market or pursuing higher education. A digital portfolio, for example, enables these future leaders to holistically demonstrate their skills, abilities, and accomplishments, the importance of which cannot be understated in our ever-changing world, evolving admissions landscape, and highly competitive job market.
It's time for all of us — educators, parents, academic and community leaders, businesses, and policymakers — to lean into this moment of uncertainty, to collaborate and think critically and creatively in partnership with students to reimagine what effective education looks like, what the true measures of student success are, and how we can help them achieve those dream careers they've set their sights on — this year and many more into the future.
Latest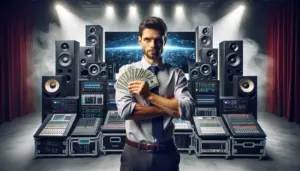 December 8, 2023
Mastering AV sales strategies in a global professional audio-visual (Pro AV) market, poised to reach $79.2 billion by 2028, requires much attention to detail. The surge in demand from corporate, government, and institutional sectors, driven by the need for enhanced productivity and efficient working environments, gives AV sales pros a lot of opportunity. In […]
Read More