Online Learning Minute: The Role of Game-Based Learning and Gamification
On this special episode of the MarketScale Online Learning Minute with Brian Runo, Lenovo Director, Global Education Solutions Rich Henderson outlined the high points of gamification and game-based learning in today's educational landscape – and how those concepts have driven tremendous results.
To begin, though, the duo took a look at the state of education in the midst of the COVID-19 pandemic and how this unprecedented situation might drive lasting change in the educational space in terms of remote and distance learning, teacher mobility and more.
"Some of the things that I'm hearing from industry experts are that we were already moving in a lot of these directions," Henderson said. "If you think about where the education space was headed, already, we were trying to untether the teacher from the front of the classroom. … This is probably moving forward that timeline by at least five years."
Moving forward, the role of virtual and augmented reality, true gamification and more could allow for learning opportunities that were previously too expensive, unsafe or logistically difficult.
Virtual reality, in particular, could "democratize" education and provide a more level playing field for all students, not just those who could afford to engage in elevated learning activities.
Still, while gamification, virtual reality and more carry enormous potential, Henderson said it's critical that these advances and strategies aren't seen as gimmicks, but deliver real, integrated and powerful learning and engagement.
For the latest news, videos, and podcasts in the Education Technology Industry, be sure to subscribe to our industry publication.
Follow us on social media for the latest updates in B2B!
Twitter – @MarketScale
Facebook – facebook.com/marketscale
LinkedIn – linkedin.com/company/marketscale
Latest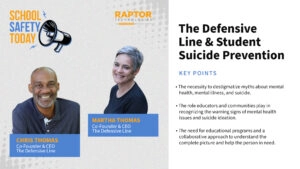 September 22, 2023
Student suicide prevention is a paramount concern among mental health providers. For one organization, student suicide prevention is more than a concern: it's their mission. The alarming rise in mental health crises among youth has become a pressing concern in recent times. With the complexities of modern life and the challenges of the digital […]
Read More