What Superintendents Need to be Successful This Year
Celebrating the leaders and experts that are powering education into the future, host JW Marshall sets out to ask the "right questions" in EdTech to understand the changes in policy and technology that will power our universities, tradeschools, and companies – and drive growth in upskilling certifications.
Twenty or so years ago, EdTech wasn't a thing. Now, though, there are plenty of companies that develop products for school districts. The missing piece of the puzzle is when they can't get their product in front of school administrators.
Enter Doug Roberts, Founder and CEO of the Institute for Education Innovation. They are working to bridge that gap. He talked about this on this episode of Voices of eLearning with JW Marshall. Doug has worked with edTech entrepreneurs and administrators for over 20 years. When he noticed a gap between those who run schools and those who start companies to help schools, he began IEI.
The Institute for Education Innovation "bridges the gaps between the individuals and organizations committed to seeing students succeed in school and life, creating a safe space for constructive problem-solving and innovative thinking."
According to Roberts, superintendents love talking to vendors, but they want to speak in a productive way. They don't want to be pitched random stuff. IEI set up an event called the IEI Superintendents Summits to bridge this gap. It helps connect edTech companies with school administrators, and in a way that's helpful for the school staff.
The duo also talked about technology's role moving forward after the pandemic. Schools are planning to reduce screen time once they return in person. Roberts believes EdTech will always be a part of K-12 schools, but there will be a push in Fall 2021 to scale back screens and increase one-on-one learning.


Latest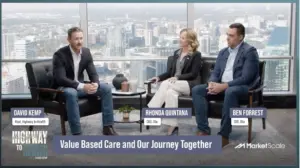 December 7, 2023
As of recent times, the healthcare industry has been progressively shifting towards value-based care, a model that emphasizes patient outcomes over the quantity of services delivered. This transition represents a significant shift that promises to enhance patient experiences and outcomes while controlling healthcare costs. With a growing emphasis on this approach, especially over the […]
Read More