Will the EdTech Investment Wave Continue into 2021?
Celebrating the leaders and experts that are powering education into the future, host JW Marshall sets out to ask the "right questions" in EdTech to understand the changes in policy and technology that will power our universities, tradeschools, and companies – and drive growth in upskilling certifications.
2020 wasn't a bad year for every industry. EdTech companies in the U.S. raised $2.2 billion last year. Diving into what those investments mean for the sector now and beyond, host JW Marshall welcomed back Tony Wan, managing editor of EdSurge. Wan recently published an article on this investment news, A Record Year Amid a Pandemic: U.S. Edtech Raises $2.2 Billion in 2020.
Investment in K-12 education, despite challenges associated with the pandemic, had a big year in 2020. Wan said that "the pandemic accelerated tech trends in education, bringing in new and existing investors" that poured into that modernization of the learning experience.
So, what types of companies were able to excite investors? Wan broke it down into a few categories. "First, there was the consumer space, a reflection of the pandemic forcing home to be a learning environment. There were companies like MasterClass that mix education and entertainment. Those that provide job training and upskilling did well, too," Wan explained.
There was definitely a boon for the market for adult education. The industry saw colleges partnering with platforms, which Wan said was a "win-win."
The drive to learn online for targeted jobs also aligns with the higher education trends, even before COVID, with declining revenues and numbers for smaller universities. These partnerships with EdTech companies could revive them.
For K-12, companies selling directly to schools didn't see as much investment. "The K-12 market has always been iffy for general investors," Wan noted. The upside was those focused on consumers and parents to provide extra support for remote learners.
Wan also revealed that the numbers for U.S. investments were impressive but paled compared to investments in EdTech in China and India. In predicting what's next for the space, he said, "There could be acquisitions and consolidations because of market saturation, especially in curriculum, communications, and learning management systems. The market can't sustain too many."

Latest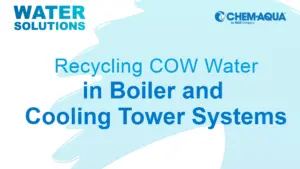 December 7, 2023
For the latest episode of ChemAqua's Water Solutions podcast, the focus was on an innovative approach to water conservation in the dairy industry. The show examined the potential of reusing Condensate of Whey (COW) water, a byproduct of dairy processing, and highlighted some of its economic and environmental benefits. Hosted by Dani Waddell, the informative […]
Read More