The Impact of COVID-19 on the Solar Energy Industry
Like every industry the world over, the solar energy industry has felt the impact of the COVID-19 pandemic.
Now, with reopening in full swing and a new normal on the horizon, the solar industry is looking to return to pre-pandemic levels of growth and advancement.
In this video, Safari Energy Chief Commercial Officer Kirk Edelman outlines the overall changes and shifts the industry has experienced during this unprecedented period.
"At the onset of COVID, some states put limitations on construction activity. In limited cases, we saw some temporary slowdown," he said. "However, by and large, solar projects are considered essential services, and the majority continued unabated after adding the appropriate health and safety precautions."
Edelman said some projects even accelerated during the pandemic by leveraging solutions such as virtual inspections and fast-track permitting.
Safari is a "leading, nationwide commercial and industrial solar developer" that aims to "support the growth of distributed energy resources" and advance a sustainable energy future.
Now, with businesses reopening around the globe, Safari and Edelman believe that the future of the solar energy industry is a bright one.
"Of all the new global power generation added last year, nearly half – 45% — was solar," he said, adding that some experts believe there are 145 gigawatts of additional solar production capacity in the United States.
Follow us on social media for the latest updates in B2B!
Twitter – @MarketScale
Facebook – facebook.com/marketscale
LinkedIn – linkedin.com/company/marketscale
Latest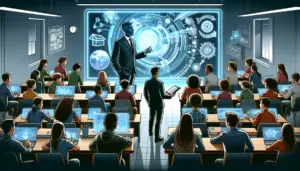 November 27, 2023
In an era where education stands at the crossroads of tradition and innovation, the potential value of thought leadership becomes the guiding star for progress. "Just Thinking" dives into this potential with host Kevin Dougherty and guest Evan Edwards, a Professional Learning Specialist at 806 Technologies who exemplifies the transformative impact of visionary guidance […]
Read More