Adapt Energy: Home Energy Storage Solutions for Solar
Troy Morgan, CEO, PanTech Design and Blake Richetta, CEO, Sonnen USA  kicked off the first episode of Adapt Energy with a discussion on the rise of home energy storage and why the viability of solar depends on it.
A few years ago, PanTech Design began developing energy automation systems to work within the home energy management space. And Sonnen is a legacy player in the residential energy storage industry at a mere 10 years old. Sonnen uses lithium iron phosphate batteries to connect to the grid and optimize and harmonize solar energy, specifically in residential applications.
"Energy storage is not just a trend," Richetta said. "It is an essential evolution of the very way that we produce and consume energy. There is no renewable energy transition without energy storage."
The increasing demand on utility grids has caused more frequent power outages, and today's customers want uninterrupted power.
"People are looking more toward home battery storage as a method of reducing downtime during these types of outages," Morgan said.
One of the premier benefits of energy storage systems is maximizing the efficiency of solar and wind energy.
"These types of energy systems are decentralized, flexible and much more resilient," Richetta said.
The capture of energy at multiple nodes versus one centralized point can help reduce power loss over a large portion of the grid during large-scale power outages.
When it comes to solar energy, Morgan wanted to clear up a misconception.
"People assume, because you have solar power, you have power available all the time," he said. "You are off the grid and don't have to buy power from the utility company, and if the power goes out, you have power. That is not the case."
To get the most out of a solar system and utilize the generated power, a home energy storage system is required. An energy storage system allows usage of the generated power by both the home and the grid when power is needed, not when it isn't.
Follow us on social media for the latest updates in B2B!
Twitter – @MarketScale
Facebook – facebook.com/marketscale
LinkedIn – linkedin.com/company/marketscale
Latest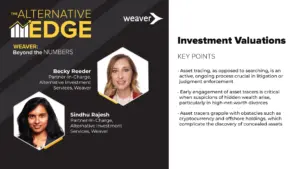 December 4, 2023
In this episode of The Alternative Edge, a Weaver: Beyond the Numbers Podcast, host Becky Reeder, an audit partner and co-leader of the alternative investments practice at Weaver, engages with Sindhu Rajesh, an Alternative Investment Services Partner with Weaver. They unpack the complexities of venture fund valuations, offering critical insights into industry dynamics and best […]
Read More