Mit Study: Second Life Batteries Deliver Benefits To Grid Storage
There's big news in the battery world. A new modeling study from the Massachusetts Institute of Technology (MIT) reported that second life batteries from the electric car industry could be reusable for grid storage in solar operations.
As electric vehicle (EV) adoption grows, and with states like California phasing out gasoline-powered vehicles, there will soon be an abundance of used batteries. The MIT study provides a possible second life for these batteries.
About the Study
MIT researchers published the study in July 2020. They looked at several building scenarios for a hypothetical grid-scale solar farm in California: a 2.5-megawatt solar farm alone and variations. One included a lithium-ion battery storage system. The other consisted of a battery array of repurposed EV batteries down to 80% of their initial capacity.
In the experiment, the team used a semiempirical model of battery degradation to predict capacity. They also found that the batteries would not have to run at maximum capacity and would work fine with batteries at a maximum of 65% and a minimum of 15%.
Most Batteries Sent to Recycle Have Capacity of 80%
Dr. Imre Gyuk, Director of Energy Storage Research at the Department of Energy, offered insights on this issue. He said that, annually, millions of usable lithium-ion batteries sent to recycling still have a capacity of up to 80%. Those numbers are sure to rise as EVs become the norm rather than the exception.
Instead of just recycling these batteries, a second life would be much more beneficial to the industry, consumers and the environment. The scalability of this, however, has challenges.
How Easy Is Scaling Second Life Batteries?
There have been small-scale implementations of the second life EV battery model. Scaling it, however, will be more challenging. Researchers asked questions such as:
What would be the battery screening process once they are removed from cars?
How would solar power operators pack these different batteries into a way they'll work together?
Would poorer battery performance impact the whole?
Further, there are economic impact concerns, as well. There will be costs associated with battery removal, collection, checking and repackaging. They concluded that a new battery installation wouldn't be a reasonable net return, but the option with EV batteries would be, as long as those batteries had a value of 60% of their original price. Their value supports the costs.
How Long Could Second Life Batteries Last?
So, what's the probability of longevity for these batteries? The study makes a very conservative hypothesis that the batteries could work until they decline to 70% of their rated capacity. That's just an assumption at this point. The batteries could last much longer, even down to 60%, though long-term pilot programs would be necessary to determine the feasibility of this. Some EV manufacturers are already performing such studies.
Backup Storage for Renewable Energy Is in Demand
According to a report from McKinsey, the demand for backup storage for renewable energy projects will surge through 2030. Second life batteries could be a source for this. EV companies are forward-looking, as well. Rivian, founded by MIT alumnus, is currently designing battery packs with this second life repurposing.
Second Life Batteries Could be Key to Grid Storage
This new study is promising. More research continues on the subject. Thus far, the future of a battery's second life looks probable. If you have questions about this innovation or how Arbin supports the battery industry, contact our experts. 
Follow us on social media for the latest updates in B2B!
Twitter – @MarketScale
Facebook – facebook.com/marketscale
LinkedIn – linkedin.com/company/marketscale
Latest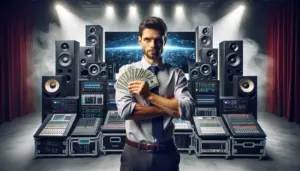 December 8, 2023
Mastering AV sales strategies in a global professional audio-visual (Pro AV) market, poised to reach $79.2 billion by 2028, requires much attention to detail. The surge in demand from corporate, government, and institutional sectors, driven by the need for enhanced productivity and efficient working environments, gives AV sales pros a lot of opportunity. In […]
Read More