Sol-Ark Employee Spotlight: Brendan King
The most valuable resource that any company has is its people. That's exactly how the leaders at Sol-Ark feel. They invest in their staff and have a strong culture. In the spirit of showcasing their team, their Energy Unplugged podcast, hosted by Hilary Kennedy, placed the spotlight on Brendan King, Production Assistant Manager. Kennedy and King chatted about his story, role and experiences.
King's arrival at Sol-Ark came through friends already working here. He asked about positions, and within a few weeks, he joined the team. "I immediately fell in love with the atmosphere here," he said.
A student in supply chain logistics, King was looking for real-world experience, and the role has delivered that and more. "There are a lot of experienced people at the company. They have taught me a lot and put their faith in me," he shared.
King is known for his attention to detail both at work and in his free time. He explained his passion for diet and fitness. "I wanted to get in shape after high school. The calorie counting isn't fun, but time in the gym is. It's a good time to bond with friends."
That camaraderie is something he feels at Sol-Ark, as well. "The company is so successful, yet so laid back like a family. We know how to be in work mode, but we are close. We have each other's back, and that makes the cooperative work more successful."
King had some parting advice for others new to the workforce. "Interview the company, as well. Money isn't always the priority. A company that cares about you is more sustainable long term."
Latest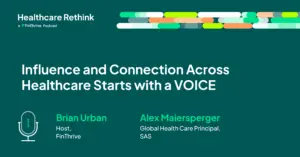 September 29, 2023
In the latest episode of the Healthcare Rethink podcast, presented by FinThrive, host Brian Urban sits down with Alex Maiersperger, the Global Principal Healthcare at SAS. Their conversation charts the role voice plays in influencing and connecting the healthcare industry. Maiersperger, who co-founded the Advancement League, shares his journey from being a healthcare optimist to […]
Read More