Taking Stock of the Economy at the Midway Point of the Year
Halfway through 2022, early concerns about how the Federal Reserve and Biden administration have handled skyrocketing gas and commodity prices are proving to be valid. The upward price pressure on all fuel products, crude oil, agricultural commodities, food, etc. has put significant pressure on the U.S. economy and many believe a recession is inevitable.
"The first quarter ended with a negative 1.6% GDP [gross domestic product] telling us that if next quarter comes in and we begin to see negative numbers we would already be in a recession. I do believe that we are already in that recession. The Atlanta Fed last week changed its projection for the second-quarter GDP announcing that they believe that the number will be minus 2.1% for the second quarter," said Tim Snyder, economist at Matador Economics
The two-quarter benchmark is not a hard-and-fast rule, but it is often used to measure where the economy is at. However, it isn't only based on the GDP but also jobs and spending. In June 2022, job growth was higher than expected but "personal consumption data for May… showed spending and disposable income dropped on an inflation-adjusted basis. That sparked a host of gloomy forecasts for June, and increasing speculation that a downturn is coming soon if it is not here already."
Looking at prices trending around the country, many people would tell you that they knew that months ago. According to AAA, gas prices peaked in June with a national average of $5.01/gallon for gasoline on June 14, 2022, and at $5.78/gallon for diesel fuel on June 19, 2022. In California, prices averaged over six and seven dollars respectively.
So, what exactly is a recession and how does it happen? By definition, it's defined by shrinking GDP but the reality is that it means "fewer jobs and lower wages" which hurts lower-income Americans the most.
Snyder explained it as the "upward price pressure when you have an inflated type of economy and you have too many dollars pushing too few goods and then you reenter with a demand that was held back because of a Black Swan event like COVID-19, the coronavirus."
The events leading up to a recession vary and in this case, the most significant factor was the Fed's hike of "its benchmark interest rate by 0.75 percentage point, the biggest increase since 1994" on June 15, 2022. And although the uncertainty of the coronavirus pandemic and the Russian-Ukraine war has had an impact, neither event is considered to be a significant factor.
"We did not have the appropriate action by the Federal Reserve when we needed to have an action by the Federal Reserve. The second issue that we dealt with is the Biden administration having an all-out war on fossil fuels where they're trying to get rid of, you know, crude oil, natural gas, coal, the refined products, those kinds of things in favor of electric vehicles and more electricity to support the grid coming from the renewables like wind and solar," commented Snyder.
There is some good news. As of July 6th, every commodity that Snyder looked into was in negative numbers noting that "oil dropped from $120 a barrel back when Vladimir Putin announced his invasion into Ukraine… And today we closed at 98.50 a barrel." Gas had also fallen to less than $4.80/gallon.
So, good things are happening alongside the bad, and the increasing consensus among experts that the U.S. will certainly be in a recession in 2022 if it is not already happening. The Fed's next actions will be announced on July 27, 2022, which will definitively impact the recession conversation, especially if it's another rate hike costing consumers even more at a time when they can afford it the least.
Latest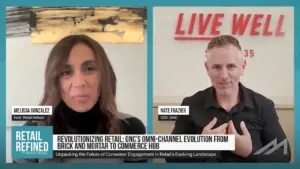 November 29, 2023
The transformation from a traditional brick-and-mortar store to an integrated commerce hub is crucial in the fast-evolving retail landscape. GNC's omni-channel evolution epitomizes this shift, blending in-person and digital experiences to meet the contemporary consumer's demands. But what does this mean for the future of retail? "Retail Refined," hosted by Melissa Gonzalez, welcomes Nate […]
Read More