Tesla Does Not Bring the Energy In Second Quarter
Tesla Inc. stocked dipped this week upon the release of the company's most recent quarterly earnings report. The car manufacturer did not meet analysts' expectations despite a company-record 95,356 vehicle deliveries during the second quarter of 2019.
According to Tesla's SEC filing, the company produced an auto gross margin of approximately 19 percent, which is not as high as the company has experienced in recent years. Experts attribute this to high volume sales of the cheapest Tesla vehicle, the Model 3. The company expects to profit margin to rise when Model 3 production begins in a new China-based plant later this year. The company reported an all-time record of 77,634 sales of the car in Q2.
Tesla offers more than just vehicles. There is mixed news in the company's energy division as well. Tesla reported a record low in solar installations, with just 29 in the second quarter. There were 84 reported installations during the same period last year, and as many as 214 in a quarter dating back to 2016.
"We are in the process of improving many aspects of this business to increase deployments," Tesla stated.
However, Tesla grew deployment of its Powerwall and Powerpack by 81 percent in Q2, bringing total Powerwall installations to more than 50,000 locations. These products are Tesla's electric car charging stations for commercial and home use.
Tesla announced on Wednesday it expects to return to profitability in the third quarter of 2019.
For the latest transportation and energy news, head to our industry pages! Also be sure to follow us on Twitter! You can also join the conversation in our Market Leaders LinkedIn Groups here!
Latest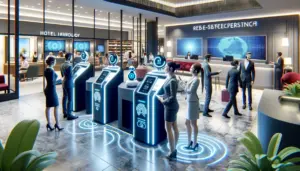 December 8, 2023
Facing critical staffing shortages, over 80% of hotels struggle to fill positions despite offering higher wages and flexible hours, as reported by a recent American Hotel & Lodging Association survey. While slightly improved since May 2022, this situation highlights a significant challenge in the hospitality industry, with housekeeping roles being the most urgently needed. […]
Read More