The Accelerated Need for Grid Resiliency
Watch above as Oracle Energy's Tom Eyoford gives his thought's on the increased demand for grid resiliency.
—
The demand for energy is at an all-time high, and this trend is expected to be the norm as population and economic growth continue. As such, the need for grid resiliency has accelerated significantly, and utilities are investing heavily in measures to ensure that the grid can withstand these increasing demands. Here are some reasons why grid resiliency is more critical than ever:
Increased load: The grid's capacity is limited, and as the demand for energy increases (especially in relation to electric vehicles), the load on the grid becomes more significant. This can lead to power outages, blackouts, and other issues, which can be disruptive and costly for businesses and households.
Extreme weather events: Climate change has led to more frequent and severe weather events, such as hurricanes, wildfires, and flooding. These events can damage the grid and cause power outages, leaving people without access to electricity for extended periods.
Cybersecurity threats: The digitalization of the grid has made it more vulnerable to cyber-attacks. A successful cyber-attack can cause significant damage to the grid, leading to power outages and other disruptions.
Aging infrastructure: The grid's infrastructure is aging, and many components are reaching the end of their useful life. As a result, there is a higher risk of equipment failure, which can cause power outages.
To address these challenges, utilities are investing in various measures to enhance grid resiliency, such as:
Upgrading infrastructure: Utilities are replacing old equipment with new, more robust infrastructure that can handle higher loads and withstand extreme weather events.
Investing in renewable energy: Renewable energy sources, such as solar and wind, are becoming more popular as a way to reduce the load on the grid.
Implementing cybersecurity measures: Utilities are investing in advanced cybersecurity measures to protect the grid from cyber-attacks.
Developing microgrids: Microgrids can operate independently from the main grid and can provide power to communities during power outages.
Utility providers are investing in measures to ensure that the grid can withstand the increased load and extreme weather events while also protecting it from cybersecurity threats. These measures are critical for ensuring that people and businesses have access to reliable and uninterrupted power.
Latest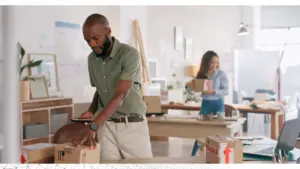 November 29, 2023
While the logistics industry often gravitates toward cutting-edge technology, Wesley Boyce, an Assistant Professor of Practice in Supply Chain Management and Analytics at the University of Nebraska-Lincoln, brings to light the enduring significance of radio communication. In a world enthralled by digital innovation, he argues that the simplicity of radios could be their greatest […]
Read More