The Time for Effective Leadership in the U.S. Energy Industry is Now
Leadership in the U.S. energy industry finds itself in a supply-and-demand situation; low supply and high demand. As the planet grapples with the urgent need to transition to cleaner sources, traditional fossil fuels face mounting pressure for reform and innovation. Yet, the industry shows signs of a leadership crisis, undermining efforts to ensure reliable and affordable energy access during this critical transition period. A recent episode of the podcast Gasonomics highlighted the concerns about energy leadership in the United States, a country whose decisions and actions significantly influence global energy trends.
As the world enters an era of technological disruption and geopolitical tensions intersecting with the energy sector, how can effective leadership help navigate these complexities? What does good leadership look like in an industry that is at once vital for everyday lives yet under scrutiny for its environmental impact, and how can it adapt to these unprecedented challenges?
Gasonomics host Tim Snyder explored these questions with Colonel Baron Lukas, Principal and MULTIPLE Program Manager at ExecHQ. Lukas is a veteran and seasoned consultant in the energy sector. This episode dissects the current state of leadership in the U.S. energy industry, its implications, and potential pathways forward in an increasingly unpredictable and demanding landscape.
Key points from their discussion include:
The urgent need for truthful dialogue in the industry, acknowledging the continued reliance on fossil fuels and the challenges of transition
The role of leadership in the energy industry as champions, communicating its significance to the broader public and policymakers
The necessity for industry leaders to endorse and advocate for national energy independence and sovereignty, highlighting the national security implications of energy decisions
Colonel Baron Lukas, a retired U.S. Marine, has carved a unique career path bridging military service and energy consultancy. With a rich aviation background and a Marine military officer career, Colonel Lucas utilizes insights grounded in tactical strategy and hands-on leadership experience. After retiring from the Marines, he spent over a decade mentoring leaders in private and government sectors. He earned him a reputation as a reliable and knowledgeable voice on leadership in complex, high-stakes environments. His perspective on the energy industry's leadership landscape, drawn from his unique career journey, provides a critical viewpoint in understanding the challenges and opportunities ahead for this crucial sector.
Latest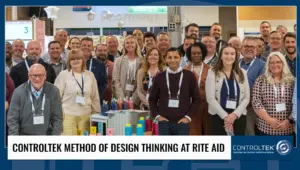 December 4, 2023
The video showcases a dynamic workshop titled "CONTROLTEK Method of Design Thinking at Rite Aid," highlighting the collaborative and innovative efforts between CONTROLTEK and Rite Aid teams. It features scenes of brainstorming, prototype development, and group discussions, emphasizing CONTROLTEK's customer-centric approach to problem-solving and innovation in retail solutions. The workshop demonstrates how cross-functional teams […]
Read More