World Water Day
World Water Day began in 1993 and has occurred on March 22nd every year since. This celebration of water seeks to raise awareness for the 2.2 billion people on the planet who live without access to safe water. Joshua Jensen, Senior Sales Director, Western Hemisphere for Trillium Flow Technologies, spoke to Michelle Dawn Moody about some of the initiatives Trillium's involved with to make this mission a reality.
Trillium's mission to provide safe drinking water solutions for millions in North America dates back eighty-five years. While Jensen humbly suggested Trillium Flow's products play only a small part in these efforts, they contribute to bringing safe water to over 300 million people in North America. "We work with and support some of the largest water and wastewater districts across North America, helping them develop solutions for their water or wastewater treatment facilities," Jensen said.
Trillium offers critical water pumping-based products manufactured in their U.S. facility located in Fresno, California. Their Floway brand provides vertical turbine pumps for water, wastewater, and dewatering applications. "Our Floway products are NSF 61 and 372-certified for drinking water and drinking water treatment chemicals," Jensen said. "Which allows us to support the demanding services of the water market." Both Floway and Trillium's Wemco line are industry-leading, known for their quality and longevity in the water market.
While the United States may have access and infrastructure to support clean and safe drinking water, many areas across the globe do not, which is why Jensen said Trillium's support of World Water Day is crucial. Climate change brings new challenges into the equation. "In just North America alone, the Western United States is experiencing some of the worst drought periods in the last 100 years and record growth, putting a greater strain on our water supplies." Water consumption reduction, reuse, and recycled water technologies will be needed to maximize available water supplies.
Latest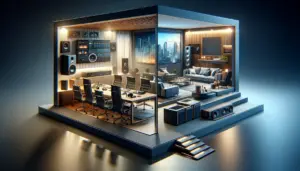 November 27, 2023
In this episode of "Pro AV Today," host Ben Thomas sits down with Audra Kinsley of Sonos Professional to unpack a topic that's causing (sound) waves in the audio industry: the fusion of commercial and residential audio systems. As we navigate through a landscape where consumer and professional audio worlds are increasingly intersecting, Sonos steps […]
Read More