The Roboticist Chronicles: Getting Dirty and Dangerous with Abrasive Finishing
Robots are perfect for abrasive finishing, because they work well in situations that possess all three of the "Big Ds" – dull, dirty and dangerous.
Even so, while more companies are embracing robotics, there are some areas, like abrasive processing, that are yet to see full integration even though they are "three-D situations."
"I think it's kind of interesting that, here we are in the 21st century, and we're just now starting to robotically automate finishing. Because, if you rewind 60 years ago, one of the first areas we started automating was in machine tools," said Dan Allford, the president of ARC Specialties. "The difference is, way back then, we were imposing our will on the part. That means we take a big block of metal or whatever and then we machine a part from it.
"Fast forward to now, and you're trying to do finishing on parts, but we're having to adapt to the shape of the part. That's the big difference, and that's why it's taken robotics so many years to catch up to machining."
There's still work to do, with organizations like ARC and 3M collaborating more and more frequently beyond this special podcast, with 3M co-sponsoring the Robotics Industry Association's Grinding and Finishing Conference.
"At the end of the day, the knowledge in the industry about robotic abrasive processing is really in its infancy, frankly," said Scott Barnett, Application Engineering Manager for Robotic Abrasive Processing at 3M. "It is a fairly complex thing to get right, and we want and need industry members to develop more expertise in the space so we can help our customers with their processing challenge."
Now, after years of slow progress, things are moving quickly in the right direction.
For the latest news, videos, and podcasts in the Engineering & Construction Industry, be sure to subscribe to our industry publication.
Follow us on social media for the latest updates in B2B!
Twitter – @MarketScale
Facebook – facebook.com/marketscale
LinkedIn – linkedin.com/company/marketscale
Latest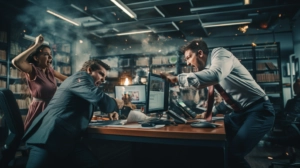 September 22, 2023
The kind of news that is delivered everyday serves as a grim reminder of the escalating violence across the U.S. Evidently, the need for proactive measures to ensure safety has never been more pressing. Such violence is not limited to any particular locale. It's actually permeating in so many different areas once considered […]
Read More