Adapting Existing and New Wagner Solutions to Leverage Self-Learning Robots
This episode of Manufacturing A Stronger Standard was live from FABTECH 2021. Host and President of LestaUSA and DeGeest Corp., Derek DeGeest, talked with JR Rogers, National Sales Manager for Engineered Systems for Wagner, a leading global manufacturer of systems for surface finishing with liquid paints, powder coating, adhesives, and sealant materials. Wagner is also an Authorized Equipment Partner of LestaUSA.
This is the first time that FABTECH has been in person since 2019, and Rogers and DeGeest are happy to be in the same room. The in-person aspect is a big topic, but the next biggest is automation.
"That's probably the number one question we get asked: 'how can we get more automation because I can't get more employees. The employees I have don't want to do the job, or don't stay with the job,'" Rogers explained. "One of the things we want to do is to be able to fulfill from the manual gun to partial automation, to full automation."
This means that Wagner has to have the right tool for the right job. There isn't a one-size-fits-all solution. Rogers noted that most folks are moving toward full automation when possible. An example would be in powder coating, where robots are utilized in the booth. Instead of having a manual operator, a robot can be trained very quickly to take over that role.
"Sometimes it's just a robot, but a lot of times it's complementing the automatic guns that are there and taking away the manual portion of it," Rogers said.
Latest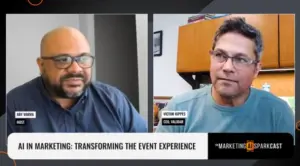 November 28, 2023
AI has been gradually changing the landscape of event technology at a very rapid pace. In an industry where staying ahead of technological trends is crucial, AI's impact on marketing and event management has become increasingly significant. As witnessed in the rise of account-based marketing and enhanced personalization, AI is effectively reshaping how events […]
Read More