AI-Driven Vision for Secondary Packaging
A new partnership between Pearson Packaging and Plus One Robotics aims to provide AI-driven solutions to secondary packaging. Michael Senske, President & CEO of Pearson Packaging, and Brent Barcey, VP Business Development, Plus One Robotics, shared this partnership's details, how it formed and what they plan to accomplish by joining forces.
"Pearson has such a strong customer base in what they do, and, with what we're bringing to the table from the Plus One side of the equation, I knew if I could get to those guys and talk about our software and what we're doing today in the warehousing space, it would be a good fit," Barcey said. "And, thus far, it has been."
"We felt fortunate to be approached by Plus One," Senske said. "We had heard quite a bit about them, and, frankly, we're really excited about that type of technology, because it addresses some of our customers' needs."
"In the 3D world today, we're able to look at a party mix—a variety pack—and an AI 3D vision system allows different products to be presented at once without any presorting," Barcey said.
Previously, robots needed items presorted. But, with this new technology at their fingertips, Pearson Packaging can deploy it at scale.
"The exciting thing about the AI component and the 3D vision component is, to automate a lot of our customer's processes, it required that we had to have them present product rather inflexibly," Senske said. "It had to be very consistent, very uniform. There wasn't necessarily always the ability to present different products simultaneously. This really is allowing the system to adapt on the fly in real-time."
Follow us on social media for the latest updates in B2B!
Twitter – @MarketScale
Facebook – facebook.com/marketscale
LinkedIn – linkedin.com/company/marketscale
Latest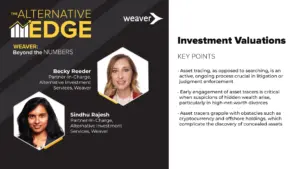 December 4, 2023
In this episode of The Alternative Edge, a Weaver: Beyond the Numbers Podcast, host Becky Reeder, an audit partner and co-leader of the alternative investments practice at Weaver, engages with Sindhu Rajesh, an Alternative Investment Services Partner with Weaver. They unpack the complexities of venture fund valuations, offering critical insights into industry dynamics and best […]
Read More